The Janssen Biotech, Inc/Johnson & Johnson COVID-19 vaccine received Emergency Use Authorization (EUA) from the US Food and Drug Administration (FDA) on February 27, joining the Pfizer-BioNTech and Moderna vaccines that received EUA in December 2020.
In early March, President Biden said that the US would produce enough COVID-19 vaccines to allow all adults to be vaccinated by the end of May. By invoking the Defense Production Act, he is working to rapidly increase the availability of COVID-19 vaccines, coronavirus tests, and personal protective equipment. Speeding up vaccine distribution has been a priority of the Biden administration partly because of the spread of highly transmissible variants of SARS-CoV-2, the virus that causes COVID-19. However, a slow rollout, weather-related supply chain interruptions, and vaccine hesitancy among many US citizens—including some healthcare workers—may thwart or at least delay the herd immunity that is needed to protect the majority of the population.
Anthony Fauci, MD, director of the National Institute of Allergy and Infectious Diseases, has estimated that 70% to 85% of Americans need to be vaccinated to reach herd immunity for COVID-19. Some healthcare experts, including Marty Makary, MD, a surgeon and professor at the Johns Hopkins School of Medicine and Bloomberg School of Public Health, are optimistic that herd immunity will be achieved in the US sooner rather than later. Others project longer time frames.
Numerous articles and research studies on vaccines provide a wealth of different perspectives and are summarized here.
Lack of confidence
Healthcare workers' attitudes toward vaccines vary. Safety concerns include the fast development of the vaccines and unknowns about long-term side-effects, period of immunity, and efficacy against mutations of the virus.
In early January, healthcare workers in parts of California passed up opportunities to get vaccinated. Some 30% in Orange County, for example, and about half of those in Riverside County were holding off.
As of mid-February, only 37% of healthcare workers at Roseland Community Hospital in Chicago had been vaccinated. Roseland is a 110-bed hospital with primarily black healthcare staff and patients. Higher rates of severe disease and death from COVID-19 in black patients versus white are well documented, yet many staff there have doubts about vaccine safety.
Among the general population, results of an Urban Institute survey in February of more than 7,500 adults aged 18 to 64 years found that 35% of respondents were unlikely to get vaccinated. Of those, 16% said they definitely would not get it.
Another survey, from the Johns Hopkins Center for Communication Programs, noted a drop in global average vaccine acceptance level—ie, those who said they would get a COVID-19 vaccine—from 66% at the beginning of January to 63% at the beginning of February. Data were collected from more than 23 countries, and although acceptance levels have stayed steady or risen slightly in some countries, the data showed a decline in the US from 69% to 65%.
Vaccines in pregnant women
Pregnant and lactating women did not participate in clinical trials for the Pfizer BioNTech and Moderna COVID-19 vaccines, and the World Health Organization in late January recommended against vaccinating pregnant women with the Moderna vaccine, note the authors of a JAMA Viewpoint.
That recommendation was revised a few days later to say: "pregnant women at high risk of exposure to SARS-CoV-2 (eg, health workers) or who have comorbidities which add to their risk of severe disease, may be vaccinated in consultation with their healthcare provider."
In addition, the American College of Obstetricians and Gynecologists and the Society for Maternal-Fetal Medicine support making COVID-19 vaccines available to pregnant and lactating women.
However, the JAMA authors say, because of the lack of data, there are concerns about potential adverse effects to the fetus from a new drug administered during pregnancy. The safety of influenza and pertussis vaccines in pregnant women is supported by data, and the authors note that although the mRNA platforms of the COVID-19 vaccines are different from those commonly given to pregnant women, there is no risk of getting infected from the vaccine.
According to one study they cite, COVID-19 causes respiratory illness requiring hospitalization in 5% to 6% of all SARS-CoV-2 infected pregnant women. Other studies have shown a risk for preterm delivery ranging from 10% to 60% of pregnant women hospitalized with COVID-19.
"With an understanding of the important practice of vaccination in pregnancy, the use of other vaccines during pregnancy, the efficacy and safety of COVID-19 mRNA vaccines in nonpregnant populations, and their mechanism of inducing an immune response, clinicians can outline the benefit of prevention of COVID-19 illness, as well as the undefined but possibly limited risk to the fetus, and potential benefit to the neonate," the authors say.
"As part of the discussion, clinicians should acknowledge with empathy the limited available evidence, as well as the tension over the potential benefits of vaccination weighed against the potential risks—whether real or theoretical—and be prepared to dispel myths," they add.
Other factors to consider are discussed in a Q&A with Justin Brandt, MD, an assistant professor in the Division of Maternal Fetal Medicine at Rutgers Robert Wood Johnson Medical School and director of quality and safety for the department of OB/GYN. Dr Brandt echoes the JAMA authors' assessment of severity of COVID-19 disease in pregnant women: "Pregnant women with COVID-19 are more likely to be admitted to the intensive care unit, to be intubated, and to die compared to non-pregnant women with COVID-19," he says. "Pregnant patients with severe disease are also at increased risk for obstetrical complications, such as preterm delivery."
Dr Brandt notes that both the Moderna and the Pfizer BioNTech vaccines do not contain live virus, and that the viral messenger RNA, which provokes the maternal immune response to fight against SARS-CoV-2, does not enter the nucleus of cells, where DNA is stored. "This suggests a reassuring safety profile for pregnant patients. Further, the vaccine leads to antibodies that can cross the placenta and provide some protection for the baby," he says.
Researchers at the University of Washington School of Medicine believe pregnant women should be prioritized for COVID-19 vaccines in schedule Phase 1B. A handful of states, including Texas, New Hampshire, New Mexico, and Alaska, have done this, but the researchers urge a nationwide prioritization for these patients.
In a recent study, they found that the rate of SARS-CoV-2 infection was 70% higher in the 240 pregnant patients than in similarly aged adults in Washington State. In addition, they say, a higher proportion of infections occurred in racial/ethnic minority groups and patients preferring a non-English language.
"Broader recognition that pregnancy is a risk factor for severe illness and maternal mortality, coupled with a higher infection rate in pregnancy, strongly suggests that pregnant people should be broadly prioritized for COVID-19 vaccine allocation in the US, similar to some states," they conclude.
Digging into data
The Vaccine Adverse Event Reporting System (VAERS), a national vaccine safety surveillance system, is run by the Centers for Disease Control and Prevention (CDC) and the FDA. VAERS contains reports from healthcare professionals and lay people.
One problem with VAERS, say the authors of a Vice News article, is that some reports are anecdotal and unverified, and may be taken out of context. They note that some anti-vaccine groups use VAERS to tout claims of serious side effects from COVID-19 vaccines, such as Bell's palsy, hospitalizations, or death—claims that have been refuted by a CDC review of safety data.
However, they add that scientists, public health experts, and the government use VAERS to identify possible side effects of vaccines. For example, Paul A. Offit, MD, director of the Vaccine Education Center and an attending physician at Children's Hospital of Philadelphia, notes that several years ago, VAERS reports helped link intestinal blockages to a particular rotavirus vaccine. After research confirmed the causal association, the vaccine was taken off the market.
"VAERS was the tipoff," Offit says. "There's value in it." But he also points out that the VAERS reports alone did not prove that the vaccine was the culprit—studies did.
The CDC cites VAERS data in its Morbidity and Mortality Weekly Report as early evidence of overall vaccine safety. For vaccines given between December 14, 2020, and January 13, 2021, the CDC says that 92.4% of VAERS reports on persons outside of long-term care facilities (LTCF) were classified as non-serious. Among the 7.6% of serious reports, there were 35 deaths. Of those, 16 were attributed to frail health caused by factors like heart disease, cancer, or stroke. Investigations are ongoing for the other 19 deaths.
Among the 72 deaths reported for vaccine recipients in LTCF, 42 were in residents in hospice care or with a do-not-resuscitate status, VAERS data show.
"Reported causes of death in LTCF residents after COVID-19 vaccination are consistent with expected all-cause mortality in this population," the CDC states. "Among deaths in persons with available death certificate and autopsy information who were not LTCF residents, causes of death were consistent with background all-cause mortality and did not indicate any unexpected pattern that might suggest a causal relationship with vaccination."
Overcoming hesitancy
Influenza vaccinations are required in some healthcare organizations, but the authors of a JAMA Viewpoint caution that mandating SARS-CoV-2 vaccines could be counterproductive. "Legal mandates signal clear policy support for immunizations, which can also increase resources for a vaccine infrastructure. Yet mandates can undermine public support, creating a backlash and even reducing vaccine uptake," they say. "Mandates may be useful in the future, but their implementation among any population that does not widely support vaccination could be counterproductive."
The US Equal Employment Opportunity Commission's guidelines state that employers can legally require staff to get a COVID-19 vaccine before returning to work. However, under the Americans with Disabilities Act, employers have to provide a "reasonable accommodation" for people with disabilities or religious beliefs that prohibit them from being vaccinated. If such a person poses a direct threat to a workplace, the employer can forbid the employee from entering the workplace, but cannot automatically terminate the employment, the guidelines say.
The National Academies of Sciences, Engineering, and Medicine in early February issued a report outlining strategies to build confidence in vaccines (sidebar, "Effective communication can help conquer hesitancy").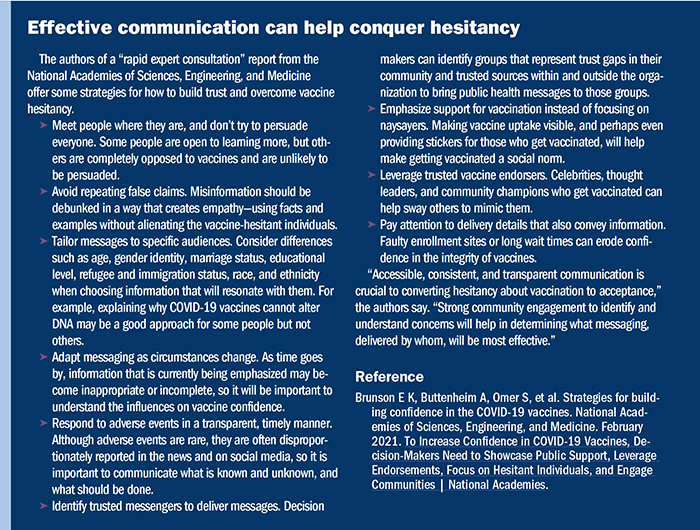 Sanjeeb Khatua, MD, president and chief executive officer of UnityPoint Health, Des Moines, recently discussed the system's vaccination outreach campaign with Modern Healthcare. Dr Khatua cited several examples of effective communication in this campaign:
• disseminating a simple, common message while also providing more in-depth information for anyone interested
• providing a forum for employees to ask questions of specialists
• producing weekly videos by top leadership
• sharing data from a regional case study showing infection rates for vaccinated vs non-vaccinated individuals
• creating a toolkit to help community partners address vaccine concerns in specific communities
• using the personal testimonial of an infectious-disease physician who was vaccinated while pregnant.
What lies ahead?
Several new vaccines nearing or already in Phase 3 trials are expected to receive approvals in the months ahead. For now, existing vaccines are being distributed as quickly as possible amid increasing concerns about new variants of SARS-CoV-2, notably:
• B.1.1.7, first detected in the UK in December 2020 and confirmed in at least 46 US states
• B.1.351, first detected in South Africa in December 2020 and confirmed in 17 US states
• P.1, first identified in December 2020 in travelers from Brazil and confirmed in five US states
• B.1.427/B.1.429, which was discovered in California and has been spreading rapidly there
• B.1.526, currently spreading in New York City and parts of the Northeast.
Preliminary data find B.1.1.7 more transmissible and possibly associated with more severe disease.
A SARS-CoV-2 Interagency Group has been formed to coordinate efforts of the CDC, National Institutes of Health, FDA, Biomedical Advanced Research and Development Authority, US Department of Agriculture, and US Department of Defense to monitor variants. In addition, the CDC is leading studies to assess the effectiveness of vaccines in non-clinical trial settings.
The FDA's Center for Biologics Evaluation and Research is monitoring safety through VAERS and other large healthcare databases.
"Maintaining public confidence to minimize vaccine hesitancy will be crucial," say the authors of a New England Journal of Medicine review article. "As in any post-EUA program, adverse events that were not identified in clinical trials are to be expected," they say. As a result of anaphylactic reactions in some patients who received the Pfizer mRNA vaccine, the authors note, the CDC recommended excluding anyone with a history of a known allergy to any component of the vaccine.
In their view, developing systematic, evidence-based approaches to vaccination safety will be crucial and will shed light on efficacy and the need for revaccination. "For the immediate future, during a pandemic that is still increasing, it is critical that we focus on safe and efficient approaches to implementing mass vaccination," they say.
"Each of the authorized COVID-19 vaccines were studied at different times, in different locations, and under different conditions, making direct comparisons difficult, but importantly they have all undergone rigorous, transparent development, testing, and authorization, and all three vaccines are highly effective at preventing hospitalization and death from COVID-19," says Susan M. Bailey, MD, president of the American Medical Association, in a February 28 press release.
"When it's your turn to get vaccinated, we urge you to take the first vaccine available to you. Even after you've been vaccinated, we urge you to continue wearing your mask, maintaining physical distancing, and washing your hands to prevent the spread of COVID-19 to those who haven't yet been vaccinated," she adds. ✥
References
Adhikari E H, Spong C Y. COVID-19 vaccination in pregnant and lactating women. JAMA Viewpoint. February 8, 2021. https://jamanetwork.com/journals/jama/fullarticle/2776449.
Associated Press. Black hospital encounters vaccine mistrust from unlikely source. February 12, 2021. https://www.modernhealthcare.com/clinical/black-hospital-encounters-vaccine-mistrust-unlikely-source.
Centers for Disease Control and Prevention. MMWR. First month of COVID-19 vaccine safety monitoring—United States, December 14, 2020-January 13, 2021. https://www.cdc.gov/mmwr/volumes/70/wr/mm7008e3.htm.
Gostin L O, Salmon D A, Larson H J. Mandating COVID-19 vaccines. JAMA. 2021;325(6):532-533.
COVID-19 Vaccine Acceptance Falling Globally, in U.S. (jhu.edu).
https://www.eeoc.gov/wysk/what-you-should-know-about-covid-19-and-ada-rehabilitation-act-and-other-eeo-laws.
https://www.fda.gov/news-events/press-announcements/fda-issues-emergency-use-authorization-third-covid-19-vaccine.
https://www.newswise.com/coronavirus/is-it-safe-to-get-covid-19-vaccine-while-pregnant/?article_id=745916&sc=dwhn.
Karpman M, Kenney G, Zuckerman S, et al. Confronting COVID-19 vaccine hesitancy among non-elderly adults. Urban Institute. February 25, 2021.
Lokken E M, Taylor G G, Huebner E M, et al. Higher SARS-CoV-2 infection rate in pregnant patients. Am J Obstetr Gynecol. Published online February 16, 2021. https://www.ajog.org/article/S0002-9378(21)00098-3/fulltext.
Love S, Merlan A. Anti-vaxxers misuse federal data to falsely claim COVID vaccines are dangerous. Vice News. Published online February 3, 2021. https://www.vice.com/en/article/qjpmp7/anti-vaxxers-misuse-federal-data-to-falsely-claim-covid-vaccines-are-dangerous.
Makary M. We'll have herd immunity by April. Wall Street Journal. February 18, 2021.
Sforza T. Health workers refusing COVID vaccines in sluggish rollout. The Orange County Register. January 6, 2021. https://www.govtech.com/em/safety/Health-Workers-Refusing-COVID-Vaccines-in-Sluggish-Rollout.html.
Stein R. Worried about coronavirus variants? Here's what you need to know. NPR. March 3, 2021. https://www.npr.org/sections/health-shots/2021/03/03/971327204/worried-about-coronavirus-variants-heres-what-you-need-to-know.
Walensky R P, Walke H T, Fauci A S. SARS-CoV-2 variants of concern in the United States—Challenges and opportunities. JAMA Viewpoint. February 17, 2021.
Weinstock M. Q&A: UnityPoint tackles vaccine hesitancy through targeted and fact-based messaging. Modern Healthcare. March 8, 2021.
Zimmer C. Studies examine variant surging in California, and the news isn't good. New York Times. February 23, 2021.