Staff turnover and open positions have increased in ambulatory surgery centers (ASCs) during the past year, according to the 2021 OR Manager Salary/Career Survey, indicating the continuing effects of the COVID-19 pandemic. About half (49%) of ASC leaders reported increased RN turnover (more than double the 24% in 2020), and 40% reported an increase in RN open positions, up from 30% last year. One positive finding is that the number of current open positions for both RNs and surgical technologists (STs) is relatively stable compared to last year.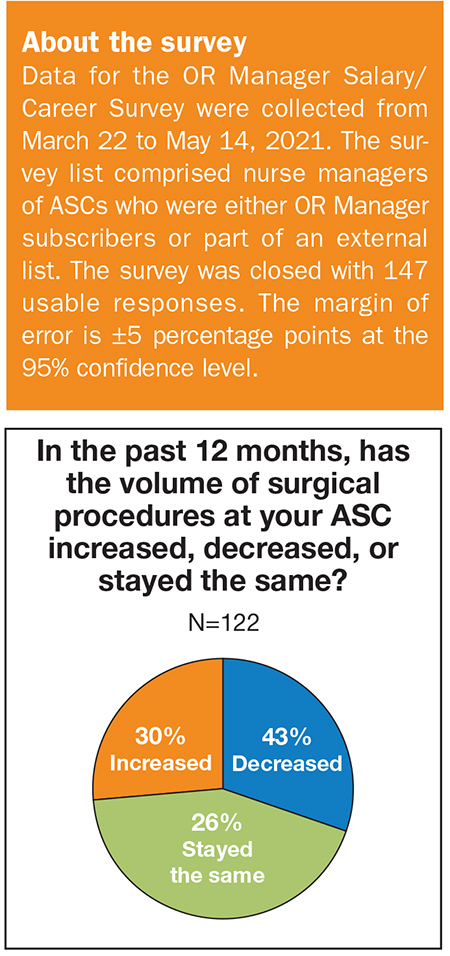 Other key findings of the survey include:
• In all, 43% of ASC leaders experienced a decrease in surgical volume over the past 12 months, comparable to last year's 42%, but much higher than the 20% reported in 2019.
• Recruiting continues to be a challenge, on a par with pre-pandemic levels. More than half (56%) of ASC leaders reported that recruiting experienced OR nurses is more difficult compared to a year ago (vs 50% in 2020 and 58% in 2019), and 40% are finding it more difficult to recruit STs (vs 48% in 2020 and 49% in 2019).
This article takes a closer look at more survey results related to staffing and care delivery, including pre-pandemic comparisons. (Percentages may not add up to 100% due to rounding.) Results related to ASC leaders' compensation, scope of responsibility, and job satisfaction will appear in the October issue of OR Manager.
Staffing patterns
Both RN and ST staffing remain a significant challenge for most ASC leaders. Only 8% of respondents said RN turnover had decreased in the past 12 months (vs 11% in 2020), and 43% reported it was unchanged, significantly lower than last year's 65%. In 2019, about one-fourth (26%) reported an increase in RN turnover, much less than this year's 49%.
Slightly more than half of respondents (51%) reported that the percentage of RN open positions remained the same (vs 54% in 2020), and 9% had experienced a decrease (vs 17% in 2020). In 2019, 32% reported an increase in RN open positions, compared to 40% this year.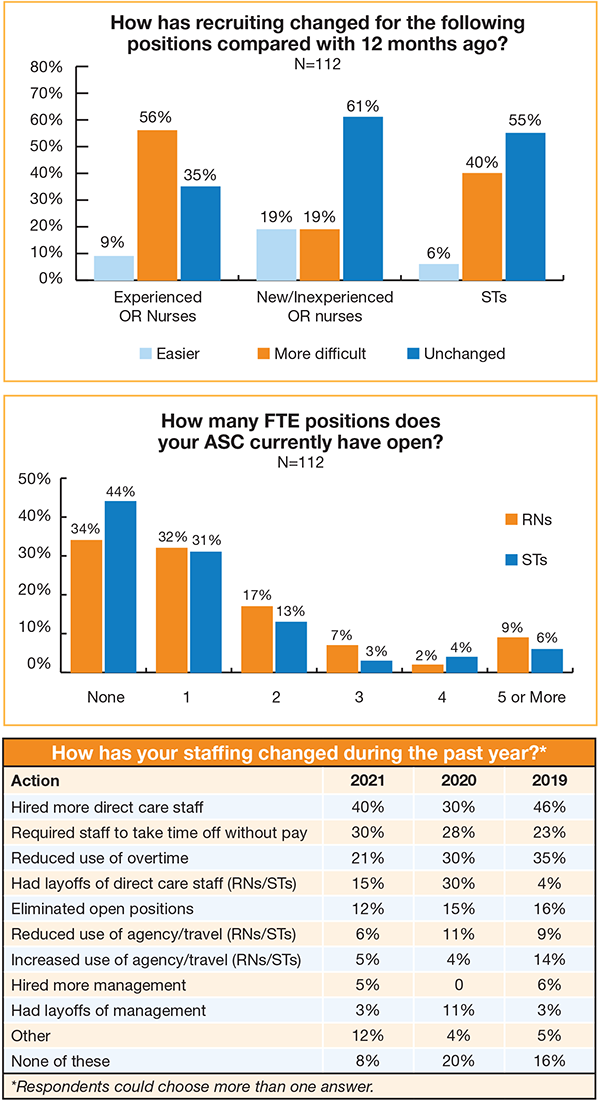 One-fourth of ASC leaders noted that the turnover rate for STs had increased in the past year, down from 13% in 2020, with 68% saying it was unchanged (vs 72% in 2020), and 7% reporting a decrease (vs 15% in 2020). The 25% increase in ST turnover is well above the 17% reported in 2019.
The percentage of open positions for STs increased for 28% of ASC leaders, comparable to levels in 2020 (22%) and 2019 (26%); 62% reported no change (vs 59% in 2020), and 10% reported a decrease (vs 19% in 2020).
Nearly two-thirds (65%) of respondents reported having none or 1 open full-time equivalency (FTE) RN position, comparable to last year's 69%, and 75% have none or 1 open FTE ST position, compared to 86% in 2020. In all, 9% had 5 or more RN positions open, and 6% had 5 or more ST positions open.
Only 9% (vs 6% in 2020) of respondents said that it had become easier to recruit experienced OR nurses in the past year; 35% found it to be unchanged, down from 44% last year. It is more difficult to recruit new or inexperienced OR nurses for 19% of ASC leaders (vs 11% in 2020), and the same percentage found it was easier (vs 17% in 2020); 61% reported no change (vs 72% in 2020). More than half (55%) found the difficulty of recruiting STs to be the same as 12 months ago, compared to 43% last year; only 6% found it easier (vs 9% in 2020).
The most common staffing change was hiring more direct care staff, reported by 40% of ASC leaders, up from 30% in 2020, but lower than the 46% reported in 2019. The next two most frequently cited changes were requiring staff to take time off without pay (30% vs 28% in 2020 and 23% in 2019) and reduced use of overtime (21% vs 30% in 2020 and 35% in 2019).
About the work setting
Nearly half (49%) of respondents work in an ASC owned by physicians, one-fourth in a joint-venture ASC, 14% in a corporate or LLC ASC, and 10% in a hospital-owned ASC.
More than two-thirds (68%) of respondents work in multispecialty ASCs as opposed to single-specialty centers. Ophthalmology was the most common single specialty, cited by 30%, followed by gastroenterology (20%) and orthopedics (11%). Top specialties cited by respondents working in multispecialty ASCs were general orthopedics (81%), pain management (75%), and general surgery (62%).
Nearly half (44%) of respondents cited specialties other than the listed options, with podiatry being the most common.

Patient care delivery
The average annual volume of surgical procedures was 4,801, up only slightly from 4,510 last year, and below the 5,115 from 2019. Fewer than one-third (30%) of ASC leaders reported increased volume in the past year; about one-fourth (26%) had no change. In 2019, 37% of respondents reported increased volume, and 43% reported no change.
This year, we explored two areas that have a tremendous impact on patient care: disruptive events and the migration of inpatient procedures from the hospital to ambulatory care settings.
We received 106 responses to our question asking OR leaders to share how their organizations are preparing for future pandemics or other disruptive events. The responses can be broken down into three broad categories.
Revising response plans. This included updating existing disaster management plans and creating new ones. Comments included:
• "Long-range planning discussed at the medical executive level."
• "Developed crisis management department."
• "We have enhanced our disaster plan to include a separate section for pandemic planning."
Training and education. This focused primarily on drills, including those based on scenarios. Leaders also reported reviewing policies and procedures with staff, providing cross-training, and ensuring competency of nurses and staff in various departments.
Supply chain. This focused primarily on supplies, including increasing inventory of personal protective equipment (PPE). Two respondents commented:
• "Enlisted in agreements with large suppliers."
• "We are increasing our reserve of essential supplies, instead of just-in-time ordering, to ensure that if there is a supply disruption, we will still have supplies."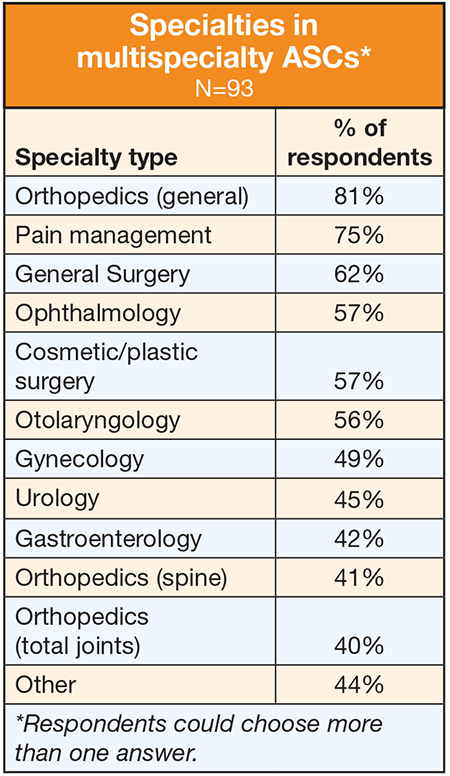 Some expressed overall confidence in the organization's ability to respond to future events, such as the ASC leader who wrote: "We are very prepared and stay up to date on emergency management in our state." Other ASC leaders have an eye on the financial impact of future pandemics. As one respondent commented: "We are trying to recruit new surgeons to increase the surgical volume and increase our monetary cushion in anticipation of another economic shut-down." Another noted the organization was doing business continuity planning based on lessons learned from the current pandemic.
Most have engaged in multiple initiatives to prepare for future disruptions. For example, one ASC leader commented: "We have invested in greater technology to communicate with patients and families, made internal operational changes to heighten the environmental infection control practices, and invested in equipment to provide greater protection for our patients, physicians, and staff."
We also received 106 responses to our question asking about strategies that organizations are using to address the migration of traditionally inpatient procedures (for example, total joints, spine, and cardiac procedures) from the hospital to ambulatory care settings. Responses included increasing staff, training staff, and expanding; for example, one respondent is adding two more ORs and two more procedure rooms.
Comprehensive planning is essential, as one respondent noted: "We have created clinical pathways to address the care of total joint and spine cases, including extensive preoperative education, 23-hour observations, and follow-up with home health and physical therapy the day after discharge from the center. Setting the expectations at the initial visit to the surgeon is a key strategy for successful outcomes."
Positive comments about the trend included:
• "We embrace the migration of previously inpatient-only cases to the ASC setting and applaud the decision that providers are best prepared to make the site-of-service decision that is best for the patient."
• "We are very excited about being able to perform more procedures away from hospital and in an out-patient setting."
That does not mean challenges do not exist. One ASC leader wrote: "It's a slow process. MDs are frequently unable to adapt to the ASC environment." Another responded: "Our reimbursement rates for total joints and cardiac do not cover our expenses, so we don't do those cases."
Fallout from the COVID-19 pandemic continues. Given the high degree of uncertainty in today's environment, ASC leaders will need to tap into their wealth of expertise to lead their staffs and support their organizations in adapting to the many changes still ahead. It is unclear when volume will fully return to pre-pandemic levels and what will be the long-term effects on staffing transitions. ✥
Cynthia Saver, MS, RN, is president of CLS Development, Inc, Columbia, Maryland, which provides editorial services to healthcare publications.