Current endoscope reprocessing methods are not consistently effective in eliminating organic soil or microbes, and the off-label use of products for defoaming, lubrication, and bleeding control may be contributing to reprocessing failures. Though endoscope manufacturers have cautioned against the use of these products, endoscopists still commonly use them, and many consider them essential.
Finding these products inside endoscopes, even after reprocessing and drying, Cori L. Ofstead, MSPH, a leading researcher and expert on endoscope reprocessing failures, is making a "call to action" for infection preventionists, OR managers, and endoscopy suite managers to determine which of these products are used during endoscopic procedures and review endoscope manufacturers' positions about their use and removal.
Ofstead told OR Manager that she and her colleagues with Ofstead & Associates (St Paul, Minnesota) had frequently found retained droplets of fluid and residues that were viscous, oily, sticky, and sometimes opaque, white, or shimmery in fully reprocessed endoscopes.
---
Sponsored Message
---
Simethicone: Friend or foe?
During a study conducted in an ambulatory surgery center (ASC) GI endoscopy practice in 2016, Ofstead and her team discovered that droplets of fluid they were seeing inside the endoscopes contained simethicone (a silicone mixture), which testing found to be consistent with infant gas relief drops.
Just as simethicone reduces foam and bubbles that cause gas pains in infants, it also reduces foam and bubbles and improves visibility during endoscopy.
Ofstead emphasized that the only reason they found the droplets was because they were doing borescope examinations of the endoscopes, which she highly recommends. There were 20 endoscopes, and they looked at each one three times in a 7-month period.
"During the ASC study, we were seeing a lot of fluid in the scopes; in fact, 95% of the scopes that were supposedly dry had fluid droplets," she says. "We also noticed early in the study that the droplets of fluid weren't always clear."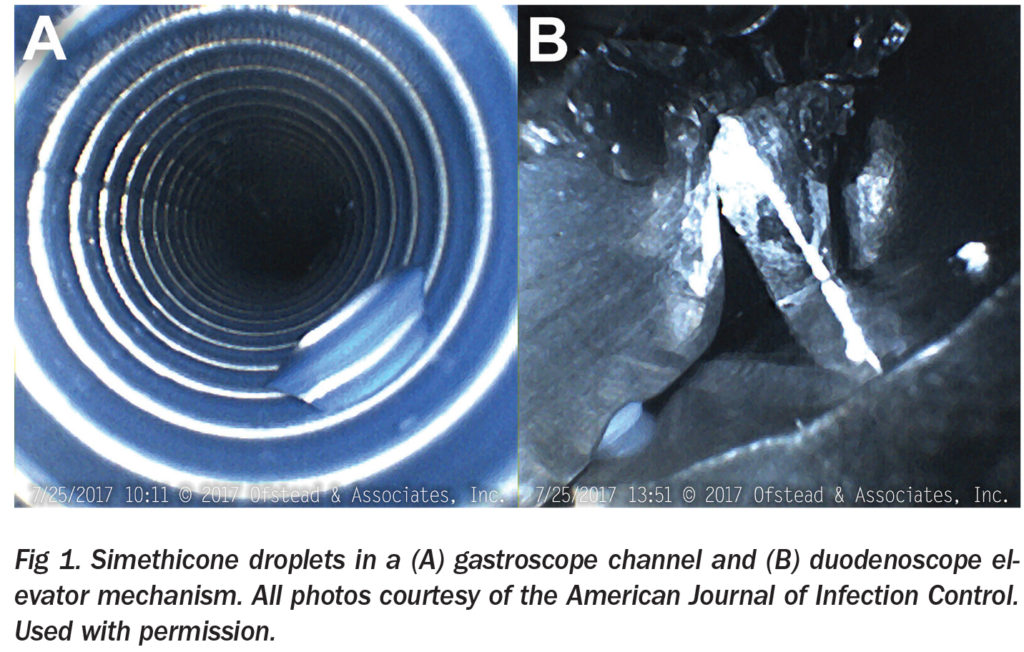 Ofstead says their initial thought was that if there was fluid left in the endoscopes, it would be water or alcohol because the automated endoscope reprocessor (AER) flushes each endoscope with alcohol after it rinses out the high-level disinfectant. They were puzzled when they found the fluid was a cloudy, milky white, shimmery substance.
She says they first asked several microbiologists if there was a bacterium or other microbe that would make the alcohol look thick and shimmery. The microbiologists' response was that a bacterial overgrowth would not make it shimmery and thick, at least not within a few hours or a day of reprocessing.
Next, they asked the nurses in the ASC if they were putting anything in the endoscopes during procedures, and they said simethicone was used to provide a clear vision for the endoscopists (Fig 1 above).
Manipulating the endoscope and flushing of water through it during a procedure may produce bubbles and foam, which get on the end of the endoscope and make everything blurry for the endoscopist. If a biopsy is taken, bleeding can also make bubbles and foam.
"The simethicone in the instant gas relief drops decreases the surface tension of the bubbles and foam, and they go flat," Ofstead says. "It's like a 'Magic Eraser.'"
In fact, she says, studies have shown that using the drops can be beneficial in that they allow for better visualization, decrease procedure time, and result in better therapeutic efficacy.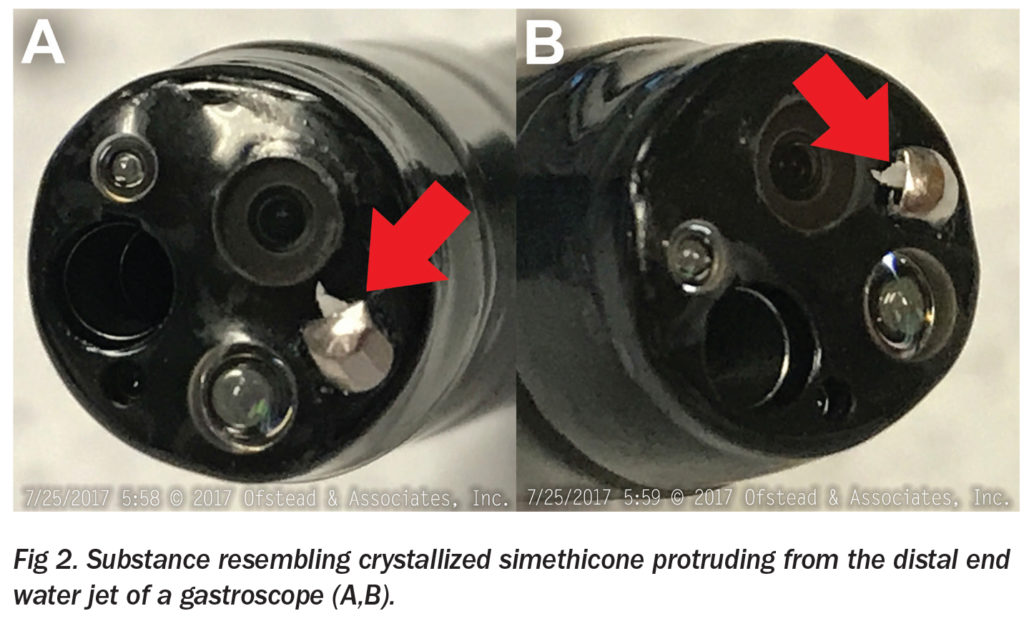 "This presents a true dilemma because there is no one right answer that is clearly superior," she says. The endoscopists find it very beneficial because it helps them to do their job more efficiently and see better. On the other hand, the evidence is becoming clear that if simethicone or other products containing silicone are used, they can't be removed from the endoscopes (Fig 2 at right).
The problem with silicone is that it is completely inert and doesn't interact with any products used to clean endoscopes, Ofstead explains. It is also hydrophobic, she says, which means it prefers not to mix with water. Therefore, rinsing with water can't clean it out of an endoscope, and neither can detergents and disinfectants because they are water-based.
"Silicone would prefer to stick to the endoscope rather than be with the water," she says. "When water is present, silicone will attach to something else, such as tissue, organic soil, bioburden, or the endoscope itself, which creates a barrier between the detergents and disinfectants and the bioburden or biofilm that may be on the endoscope surface. This not only interferes with reprocessing effectiveness, it can gum up the endoscope because silicone can be sticky when it dries out."
Another problem is that the infant gas relief drops are not sterile, and indeed the Food and Drug Administration (FDA) and recall databases show a number of recalls of these drops because of contamination with mold or a bacterium called Burkholderia Cepacia, she says.
Ofstead has found that silicone is used not only during endoscopies of the stomach or bowel, but also during bronchoscopies. In 2017, she and her team conducted prospective studies at four hospitals across the US to evaluate the effectiveness of bronchoscope reprocessing and the methods used to dry flexible endoscopes.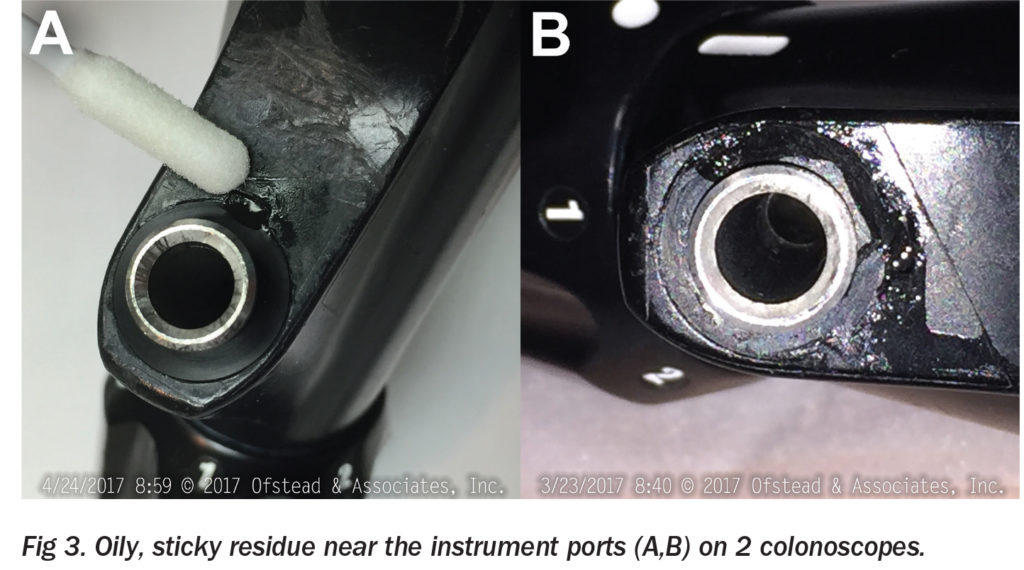 In these studies, they also did borescope examinations and visual inspections of the outside of the bronchoscopes with lighted magnification.
"We were doing very detailed visual inspections of bronchoscopes, and we saw stuff on them that didn't make sense," she says. "It was an oily, sticky substance" (Fig 3 at right).
Generally, Ofstead says they would see the substance by the instrument port, the biopsy channel port, or on the insertion tube. When they touched it with their gloved hands, their hands would stick to it.
They took samples of the substance and tested it to see if it contained water. After the substance tested negative for water, they asked staff in the bronchoscopy suite what it might be. Their answer was Silkospray, which is a silicone product that comes in an aerosolized can and is used on stainless steel instruments as a lubricant for hinges.
The staff said they would spray it on the bronchoscope before putting it through the introducer sheath to make it slide more easily, and they sprayed it on instruments to help them slide easily down the instrument channel, as would be needed to take a biopsy.
The Silkospray can does not say it is sterile, and Ofstead says they found a white paper published by the University of Wisconsin that raised concerns about it being used in bronchoscopy. One concern raised by these researchers was that when it was sprayed, droplets would fall to the floor, making it slippery, and nurses were slipping and falling.
"Again," says Ofstead, "this is a case of a true dilemma. To use the bronchoscope, they need to have a lubricant. Yet, the lubricant they're using can't be removed from the scope and introduces a nonsterile substance into the scope and lung."
Ofstead says she was concerned about the use of Silkospray and became even more concerned when hospital personnel told her that for some endoscopic procedures, they just used PAM, a vegetable oil-based cooking spray, which also contains silicone.
"These products are not labeled for use in endoscopies," she says, "and about 10 years ago, Olympus sent a letter to healthcare professionals, noting that they had received many questions about the use of PAM cooking spray, and that PAM may be very difficult to remove during reprocessing."
The 2010 customer letter from Olympus says the following:
"Olympus recommends medical grade, water-soluble lubricants (eg, K/Y jelly, lidocaine jelly) for the insertion tube of their flexible endoscopes. Experience in the US market also suggests that PAM cooking spray is compatible with Olympus flexible endoscopes. However, Olympus makes no claim that PAM is suitable for use during endoscopy procedures. In addition, Olympus cautions customers against the use of petroleum-based (eg, ointments, Vaseline) and silicone-based lubricants. Although these lubricants may not damage Olympus endoscopes, they may be very difficult to remove during reprocessing."
Call to action
Ofstead and her team combined the findings from their 2016 and 2017 studies into a paper titled: "Widespread clinical use of simethicone, insoluble lubricants, and tissue glue during endoscopy: A call to action for infection preventionists."
She says they named the paper "a call to action" because they found staff in endoscopy suites who said they use these products all the time, yet the perioperative managers and infection preventionists knew nothing about it. These stakeholders had not been consulted and had not done a risk assessment on them.
Ofstead says this dilemma must be approached thoughtfully. "If we just say we are banning these products, then we might find physicians and providers who will say they can't do endoscopy without it." She and her colleagues plan to talk to the FDA. "We have to figure out how to use these products safely and how to remove them from the scope. There should be studies to show whether they are safe, whether they should be sterile, and whether they ruin the scope, and that hasn't happened yet," she says.
Ofstead adds that she also wants to know if these products are tied to contamination levels. "Contamination levels of endoscopes are very high, and we think this may be a part of it, but we need more data," she says. "We need to know how widespread this is and how much it is interfering with the technician's ability to get the scopes clean."
Ofstead says she hopes her research leads people to reach out to OR managers and managers of endoscopy suites to see if they are using these products. She hopes more people will use a borescope to look inside their endoscopes and see if there are silicone products or tissue glue stuck inside them.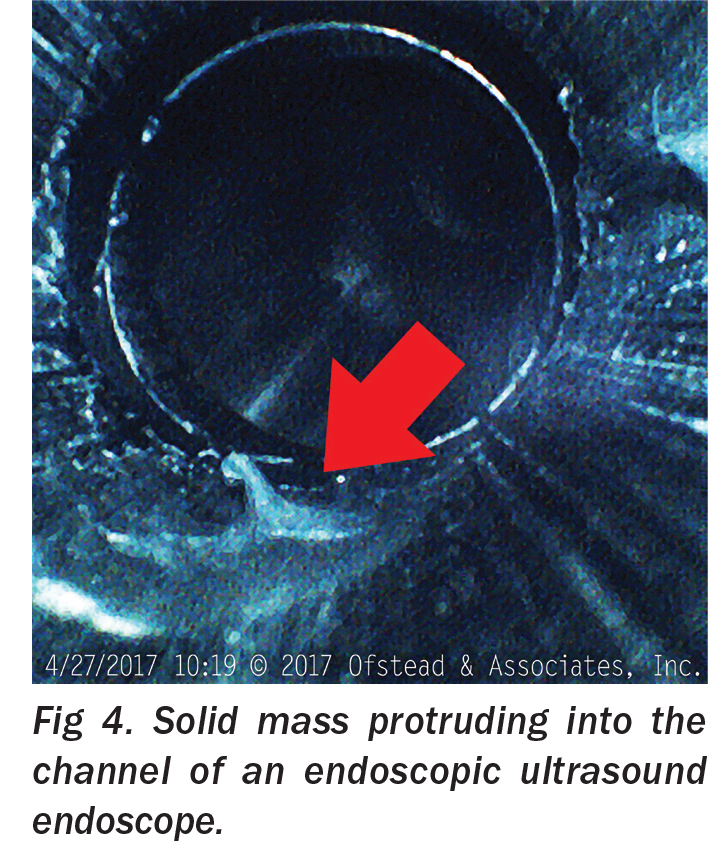 Looking inside endoscopes with a borescope for these studies was the first time Ofstead says she had any idea tissue glue or blood clotting agents were being used in endoscopy (Fig 4 at right).
Tissue glue is a form of superglue that can be injected internally during endoscopic procedures. Just like superglue, tissue glue hardens almost instantaneously when it's exposed to air, water, or blood. That can make it useful for occluding vessels or stopping bleeding, but it can also stick to the endoscope if it comes into contact with it.
Another product that's being marketed for use during endoscopy is called Hemospray. It is an aerosolized powder that is sprayed on a wound to make blood clot and stop bleeding, Ofstead says. An FDA adverse event report notes that its use in one patient made a large clot that was stuck inside an endoscope, and it, unfortunately, did not come out until two patients later, she says.
"These kinds of discoveries—the simethicone, the oils, the tissue glue, the Hemospray—offer more proof that endoscopy personnel need to be looking inside their endoscopes with borescopes," says Ofstead. "We need to have widespread use of borescopes with people sharing their findings at conferences and in published articles, in order to get our arms around how often these products are used and whether they are staying in the scopes." ✥
References
Food & Drug Administration. MAUDE Adverse Event Report: Olympus Medical Systems Corp. EVIS EXERA II Gastrointestinal Videoscope. https://www.accessdata.fda.gov/scripts/cdrh/cfdocs/cfMAUDE/detail.cfm?mdrfoi__id=8229785&pc=FDF.
Ofstead C L, Heymann O L, Quick M R, et al. Residual moisture and waterborne pathogens inside flexible endoscopes: Evidence from a multisite study of endoscope drying effectiveness. Am J Infect Control. 2018;46:689-696.
Ofstead C L, Hopkins K M, Eiland J E, et al. Widespread clinical use of simethicone, insoluble lubricants, and tissue glue during endoscopy: A call to action for infection preventionists. Am J Infect Control. 2019;47:666-670.
Ofstead C L, Quick M R, Wetzler H P, et al. Effectiveness of reprocessing for flexible bronchoscopes and endobronchial ultrasound bronchoscopes. Chest. 2018;154:1024-1034.
Ofstead C L, Wetzler H P, Johnson E A, et al. Simethicone residue remains inside gastrointestinal endoscopes despite reprocessing. Am J Infect Control. 2016;44:1237-1240.
Olympus America Inc. Letter to Health Care Professionals RE: Lubricants for Olympus Flexible Endoscope Insertion Tubes. September 5, 2010. https://medical.olympusamerica.com/sites/default/files/pdf/LubricantStatement.pdf.
Wardrop C, Zhou T, Nessman R, et al. Silicone oil applicator for medical devices. University of Wisconsin-Madison. March 14, 2012. http://bmedesign.engr.wisc.edu/projects/file/?fid=2302.