April 7 – 9, 2013 | Denver, Colorado
| | |
| --- | --- |
| To mail your registration form, click here. | This intensive, interactive workshop is an opportunity for OR business managers to increase their knowledge of OR processes, to develop critical skills to drive effective business practices for surgical services, and to network with colleagues.The workshop will be led by speakers experienced in managing the business of perioperative services, including an expert in the health care revenue cycle specific to perioperative services, and an OR clinician. |
Focus of the workshop
The focus is on developing analytical/critical thinking skills as well as on understanding cost components and overall financial management of the OR. Attendees will have the opportunity to work on projects during small-group breakout sessions to problem-solve and develop strategic planning skills.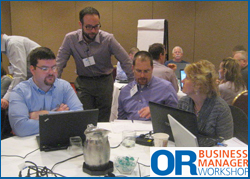 Some of the topics to be covered are:
• OR charging methodology
• Vendor management
• Management of the revenue cycle
• Data management for decision making
• Operational efficiencies
• Value analysis process
• Role of the business manager
And much more!
---
Agenda
Sunday, April 7, 2013
5:00-6:30 Welcoming Reception
Monday, April 8, 2013
8:00-8:30 Registration and Continental Breakfast
8:30-10:00 Workshop
10:00-10:30 Morning Break
10:30-12:00 Workshop
12:00-1:00 Lunch
1:00-3:00 Workshop
3:00-3:30 Afternoon Break
3:30-5:00 Workshop
Tuesday, April 9, 2013
7:30 Continental Breakfast
8:00 -10:00 Workshop
10:00-10:15 Morning Break
10:15 – Noon Workshop
Noon Adjourn
---
Who Should Attend
Participants will include OR business managers, as well as OR Directors and managers, involved in the business decisions that drive the OR's economic, quality, technical, and program development.
Limited to 75 participants, the two-day workshop will open with a welcoming reception on Sunday evening and end Tuesday afternoon.
---
Glenn Kaleta, MBA
PMP Program Manager
Enterprise Project Management Office
Northwestern Memorial Hospital
Arshia Wajid, MBA, MPH
Project Manager
Northwestern Memorial Hospital
Keith Siddel, JD, MBA
Attorney
HBL Concepts LLC
Judy Dahle, MS, MSG, RN
Education Coordinator
OR Manager
---
CE Credits
14.4 contact hours
---

Registration & Fees
Early Bird registration Rate (through 3/17/2013) $795
Regular Registration Rate (after 3/17/2013) $895
Group Rate: 3+ people = $200 off per person
Registration includes – breakfast, lunch and reception
To download and mail your registration form, click here (PDF)

---
All cancellations are subject to a $300 service fee (per attendee). Before March 11, 2013, you will receive a refund of your payment minus the service fee. After March 11, 2013, your payment will be credited toward a future OR Manager event, minus the service fee. Registrants who fail to attend and do not cancel prior to the event are not entitled to a credit or refund of any kind. There are no exceptions.
---
Denver Marriott City Center
1701 California Street, Denver, CO 80202
303.297.1300
Our room block at the Denver Marriott City Center has sold out at this time. Rooms are still available at the hotel at their current selling rate of $369/night.
We've secured an additional room block at the Grand Hyatt that is just 1 block from the Denver Marriott City Center at 1750 Welton Street, Denver, CO 80202. You can call them directly at 303.295.1234 or book online and reference the Dorland Health overflow room block. Rooms will be available in our room block at a rate of $199/night.
---
Sponsorship & Exhibiting
For information regarding sponsoring and exhibiting at the OR Business Manager Workshop please contact Kim Luna at kluna@accessintel.com or 720.870.2440.
Sponsorship & Exhibiting Opportunities
---
FAQ's
Why are you offering a workshop for OR business managers?
OR business managers are an integral part of effective and efficient management of operating rooms in hospitals and surgery centers. As such, OR business managers, and OR directors who serve both roles, benefit from having intensive educational experiences with opportunity to learn from experts and discuss concerns with colleagues.
Is there a dress code for the workshop?
Business casual is the best choice.
What do I need to bring?
Bring your questions, concerns, and your enthusiasm for your job. Make sure you bring your laptop computer to use in the group breakout sessions. Additional materials will be provided at the workshop. Details will be provided prior to the event.
---
Contact:
Judy Dahle, MS, MSG, RN, Education Coordinator, OR Manager, Jdahle@accessintel.com