Surgeons often are eager to acquire the newest technology, particularly right after attending a conference with a vendor-packed exhibit hall. How can OR leaders weigh surgeon demands with organizational cost constraints to ensure they meet patient needs while being fiscally responsible? The first step is to acknowledge the complexity of the process.
"Technology acquisition is a very complicated process that is often daunting for perioperative areas," says Kate Ulrich, MS, BSN, RN, NEA-BC, assistant VP for perioperative nursing at Duke University Health System, a three-hospital, Magnet®-designated healthcare system in Central North Carolina. "It can be challenging to secure funding in today's healthcare environment."
Those challenges may come from within one's own organization. With departments jockeying for access to funding and trying to balance competing demands, leaders often must decide whether their capital budgets should be used to replace aging equipment or purchase new technology.
Ulrich and Rebecca McKenzie, DNP, MBA, MSN, RN, assistant VP for perioperative services at Duke University Hospital (DUH), partnered with colleagues to create a process map for technology acquisitions at DUH, which has 65 licensed ORs and is a 957-bed, Level 1 trauma center (sidebar below).
In the first of two case studies related to technology acquisition, OR Manager presents advice and strategies from leaders at DUH that can be applied in other organizations. The second case study, to be published in the March issue, will reflect the experience of OR leaders at HCA Healthcare and Ocala Health.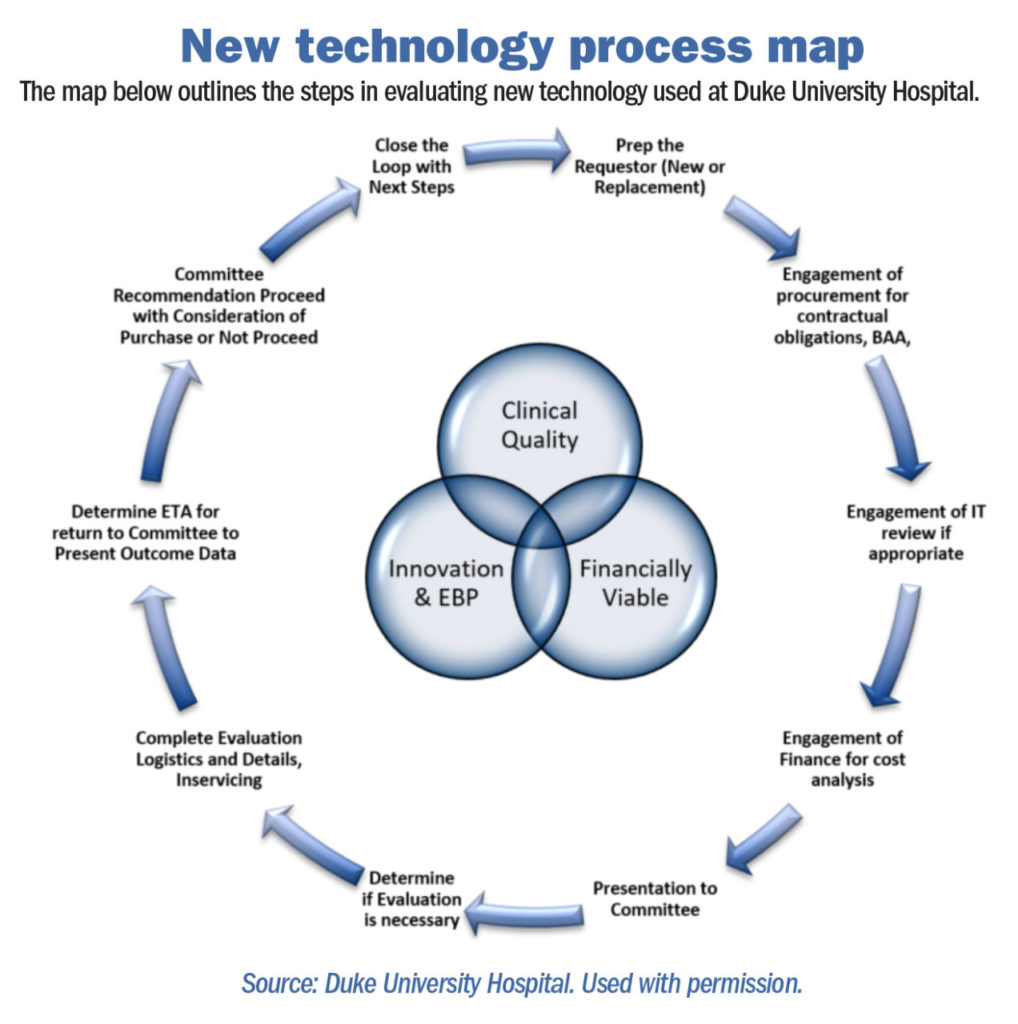 In the center
The steps of the process map at DUH encircle three key areas of the decision-making process: Clinical quality, innovation/evidence-based practice, and financial viability.
McKenzie says leaders should start by asking what problem the new technology is intended to solve. The answer often relates to clinical quality. For example, will the new technology enhance patient outcomes or increase the number of lives touched with new clinical programs? If the technology is intended to improve patient safety, is there an immediate risk with an existing technology? Are there opportunities to leverage efficiencies and reduce costs by decreasing OR time and patient length of stay?
To evaluate innovation/evidence-based practice, consider the benefits and drawbacks of being first in the market to implement a new technology. "Being an early adopter is a significant investment of time and clinical resources," McKenzie says. Technology may not work as expected, and there may be delays with implementation, or hidden costs that may impact the project timelines.
On the other hand, early adoption may increase market share over the competition and provide additional patient volume. Hospitals can also leverage first to market with the vendor for cost-saving opportunities, particularly when providing feedback for ongoing product development.
McKenzie adds that technology may have a "halo" effect. For example, patients are very savvy about researching treatment options, and those may influence where they seek treatment. By considering a portfolio of clinical treatment options, patients and physicians can determine the most appropriate clinical pathway based on the specific diagnosis.
Innovation also can play a key role in recruiting and keeping top talent, including surgeons, nurses, anesthesia providers, and other staff. This is particularly important at an academic medical center like DUH, which is committed to ensuring medical students and residents are at the forefront of innovation.
Those assessing the new technology should look beyond the literature provided by the manufacturer. "You want to review available research, not just white papers provided by the vendor," McKenzie says, although she notes that there may be limited published research on new technology. Attending conferences and talking with colleagues can help OR leaders track the effectiveness of new technology.
Financial viability includes asking questions such as: Will the new technology help boost revenue, increase volume, or gain market share? "You also need to consider what you're leaving on the table if you don't purchase the equipment because that can help justify the purchase," McKenzie says.
What is the organization's strategic plan? Investing in innovative treatments to gain market share or establish a new clinical program may be expensive up front, but could enhance the bottom line over time with additional patient volumes in local, regional, and national markets.
The entire cost of ownership must be considered when assessing the return on investment (ROI); that includes the cost of service agreements, depreciation, software upgrades, and staff education for nurses, physicians, and biomedical engineers. Other possible additional costs include infrastructure upgrades and needs such as special power requirements.
"You also need to consider 'downstream' effects," Ulrich says, referring to the impact on the patient care continuum. For example, if a new clinical program results in a surge of patients, the hospital must be prepared to provide enough resources for the increased volume.
Staging implementation of new clinical programs and innovative equipment across multiple hospitals in a health system can be complicated. It may be strategic to implement new technology at one hospital before rolling it out to others.
In some cases, an organization may move forward even in the face of financial barriers if patients will benefit. Many medical devices receive US Food and Drug Administration approval before insurers approve reimbursement for care, but that may mean significant out-of-pocket cost to the patient and financial risk to the hospital. Hospitals and device manufacturers need to work closely with insurers to benefit patient care.
Put the right people in place
It is not enough to have a committee to review technology; the right people must be at the table. "You need to have people who are influential in the areas they represent and can see the bigger picture, not just their own departments," McKenzie says. At DUH, clinicians who serve on the technology committee—surgeons, nurses, and anesthesia providers—are respected by their peers and break down traditional silos by having open, transparent discussions and making tough decisions.
Administrators also sit on the committee to provide a strategic perspective. "They know the market—where there is opportunity to grow, what our competitors are doing, and where we might be vulnerable," McKenzie says. Other members include the chief financial officer, financial analysts, clinical engineering/biomedical staff (who can help evaluate whether they can service the equipment or if a service agreement is needed), administrative support staff (for minutes and logistics), and information technology (IT) staff.
"It's important to know how a new device will integrate with existing ones, and to determine if there are any firewall issues," McKenzie says. Procurement staff help with negotiations and ensure that contractual agreements are in place.
Ad hoc members, such as staff from infection prevention, communications, or education, are included depending on what expertise is needed, as are internal review board representatives when research devices are under consideration.
Although capital expenditure processes may vary among organizations, providing clear expectations is essential. OR leaders can keep committee members (and vendors) on the same page by ensuring they know the fiscal year for the expense, the timeline for forecasting capital expenses, and the financial authority of the committee.
Standardize the process
Setting rules and standardizing the submission process reduces conflict and improves communication. "There is a formal process for requesting to present to the technology committee. The project champion (generally a surgeon, anesthesiologist, or nurse) initiates the request by completing a project initiation form," McKenzie says (sidebar at right).
The form is reviewed for completeness by McKenzie, the project champion, and representatives from procurement, IT, and finance; any pending questions are resolved before presentation to the committee. Champions use a PowerPoint template to structure a presentation that includes information related to clinical benefits, evidence-based outcomes, financial implications (cost of ownership), and contribution margin. "We want to understand why the request is being made and its impact on the patient and the organization," McKenzie says.
For the financial analysis, McKenzie says, "we dig into volume, utilization, and true cost savings versus shifting costs to other cost centers." The committee considers not just the cost of purchase, but also the cost of total ownership over the next several years. If costs are expected to increase, the team looks for offsets such as reduced length of stay. The goal is to establish the ROI through a cost-benefit analysis. For approved projects, a follow-up review of the financial ROI at a later date determines the accuracy of the projections.
Given the increased focus on cybersecurity, one of the most detailed parts of the submission is the IT analysis. Requestors have to answer the following questions:
• Will the manufacturer provide free operating system upgrades and patches to maintain system functionality?
• Does the device store clinical data? If so, requestors must state where the data will be stored: Cloud, DUH network, or an external or vendor network. If an external or vendor network will be used, additional questions need to be answered, including whether data are stored outside the United States.
• Will the device require integration with any DUH clinical system?
• Is there an existing interface with the electronic health record?
• Does the device need data and/or does it produce data or images?
• What type of personal health information is included?
• Has Duke Health Technology Services (IT team) reviewed the device?
• Will the manufacturer access DUH systems remotely?
• Is any e-commerce being conducted?
"The IT section can be the most complicated part of the process, which is why it's so important to have IT representation on the committee," McKenzie says.
Decision time
The committee may request a product evaluation before making a decision. McKenzie says the evaluation period should be long enough to yield sufficient data. "It's not enough to do one or two cases," she notes. The evaluation logistics may be based on total volume, and the appropriate stakeholders must participate in the process. DUH considers evaluation information proprietary to the organization, but may provide the vendor with a summary of the evaluation.
Site visits may be made to see fixed equipment such as booms or components of a hybrid OR. "Ask the vendor for three organizations that use the product, but then also find a few of your own," says McKenzie. "Include those who have just implemented the product and those who have been using it awhile."
The committee reviews data from the evaluation and decides whether the project should proceed. If the need is obvious, funds are secured and the project moves forward. Alternatively, the project can be incorporated into the capital plan for the upcoming fiscal year.
For approved projects, the next step is negotiating price. McKenzie recommends knowing what is in the pipeline so the organization can negotiate upgrades and future iterations as well as economies of scale and total cost of ownership.
Whatever the decision, McKenzie says it's important to close the loop by informing everyone involved in the process and thanking them for their assistance.
Thinking ahead
McKenzie says OR leaders can anticipate new technology needs by keeping a running list of repairs—a harbinger of what will need to be replaced. "You also should know the life span of products and what's in the pipeline," she adds, and recommends staying in touch with vendors and colleagues to know what is on the new technology horizon.
Ulrich says it's also important to assess the evaluation process to see how it can be improved. "New innovations are coming forward all the time," she notes. "Having a standardized process in place and being transparent with surgeons and other participants will help you make the best decisions." ✥
Cynthia Saver, MS, RN, is president of CLS Development, Inc, Columbia, Maryland, which provides editorial services to healthcare publications.
Reference
Urlich K, McKenzie R. Bling vs benefits: Key considerations for new technology acquisition. OR Manager Conference. 2019.