California fires threaten safety of OR staff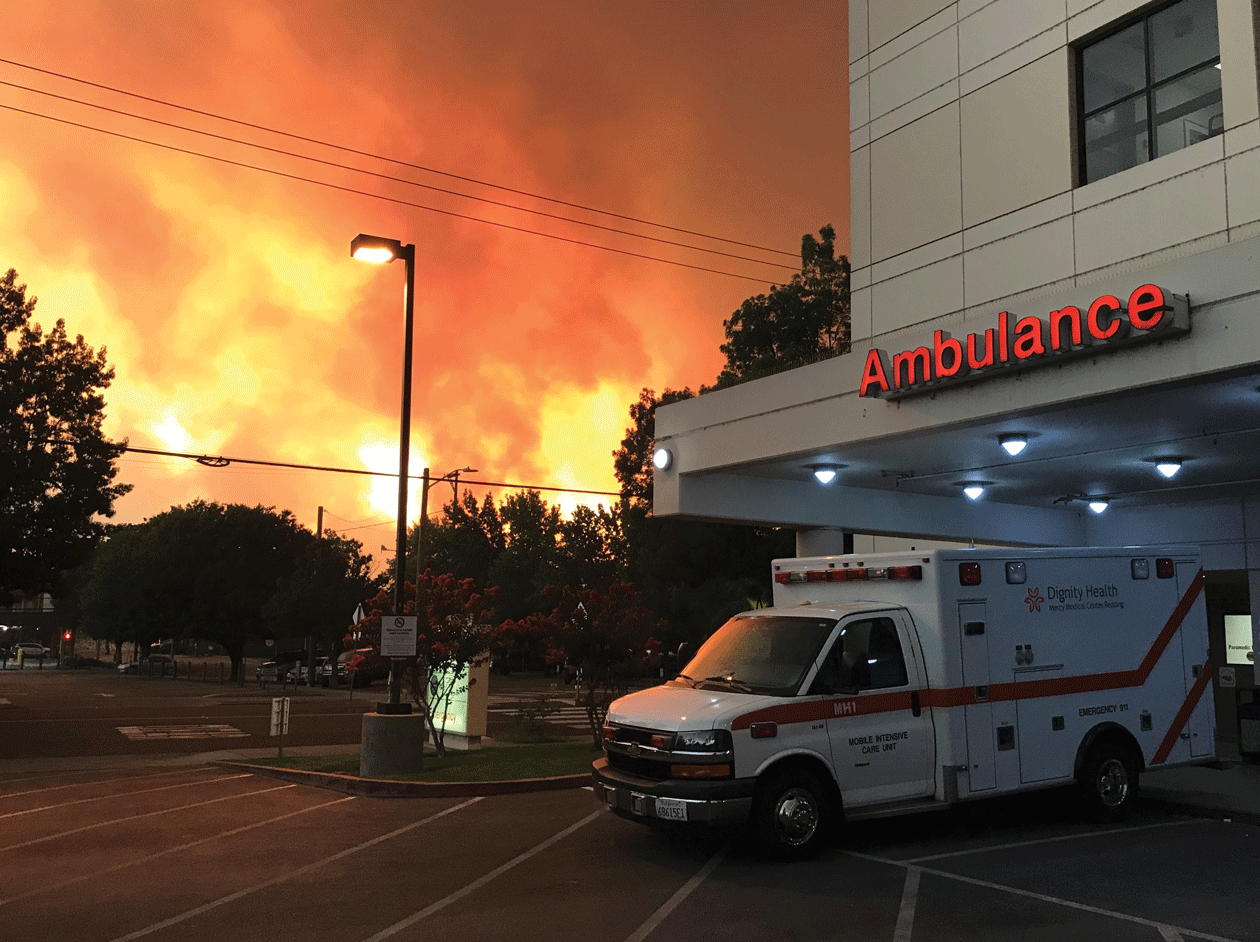 On Monday, July 23, a trailer blew a tire at the intersection of Highway 299 and Carr Powerhouse Road in the Whiskeytown district of Whiskeytown-Shasta-Trinity National Recreation Area in Northern California.
As the driver tried to stop, the wheel's rim scraped against the asphalt and threw some sparks into very dry grass along the side of the road, starting the Carr wildfire, the sixth most destructive fire in California's history.
On Thursday, July 26, the wildfire jumped the Sacramento River and was making its way into the city of Redding, causing the evacuation of 38,000 people.
Driven by drought, low humidity, and gusty winds, the fire spawned a fire whirl in Redding, generating wind speeds of up to 143 mph—the equivalent of an EF-3 tornado—and triggering a wave of destruction, including the collapse of power lines and trees being uprooted or having their bark blown from them.

By Thursday afternoon, the fire was within three miles of Shasta Regional Medical Center, a member of Prime Healthcare. Recognizing the danger to the community and potentially to the hospital itself, hospital administration called Code Triage for external disaster.
"I had worked a normal shift on Thursday and was keeping my eye on the news for fire updates," says OR staff nurse Jordan Burke, BSN, RN. "Looking outside of the emergency room, we could see the flames in the distance" (photo at right).
Burke's husband, a California highway patrol officer, was also monitoring the fire and assured her their home was not in the path of danger.
That evening, within a matter of hours, the situation changed. The wind picked up, and there was a quick turn of events, leading firefighters and police to their front door with orders to evacuate immediately.
Burke, along with many of her neighbors, had no idea where to go, but she knew evacuation was the only option for their safety and survival. It was a mass exodus with backed-up traffic that took 30 minutes to go five miles.
"As I was trying to figure out where to find a safe place to stay for myself, my husband, and my dog, I was also thinking that I was going to be the OR charge nurse the next day, and I would be lucky to get any sleep," says Burke.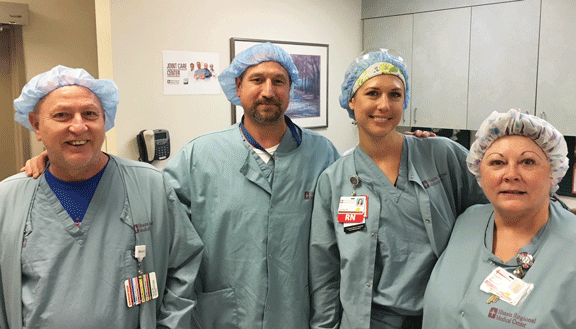 Burke and her family were evacuees for 7 days while their home was dangerously close to burning. Ultimately their home was spared, but neighbors as close as four houses away were not as fortunate.
During those days of uncertainty, Burke and many other employees and physicians chose to put their personal concerns second and report to work where they could help others in their community.
At Shasta Regional Medical Center, only emergency surgical procedures were performed between Friday, July 27, and Monday, July 30, while the Carr fire posed the greatest threat to the area surrounding the hospital. Most of the emergency cases were fractures from people falling while trying to evacuate their homes in a hurry, says OR supervisor Nancy Carter, LVN II, CST.
"When we called Code Triage on Thursday afternoon before the worst of the fire, the entire community sprang into action," says Carter. Shasta Regional Medical Center, along with three other local hospitals, became command centers, and a process for evacuation was set up. The directors and managers continued to meet and provide updates every 2 hours until late Thursday afternoon when the wind patterns shifted, significantly reducing the risk that the hospital might have to evacuate.
While the wind moved Shasta Regional Medical Center out of the fire's path, the shift put Carter's home at greater risk. When Carter and her husband were told to evacuate Thursday night, they relied on a packing list that they prepared earlier in the day, which she highly recommends doing. "It made packing our belongings much easier when we had to leave because our minds were racing with fear," she says.
Carter says she and her husband had both of their vehicles packed and ready to leave when the fire was about 1.3 miles away from their home. They remained home with their vehicles packed and ready to pull out. "We stayed up the entire night, praying, watching, waiting, and walking the perimeter of our property," she says.
Carter went in to work at 4:30 am, while her husband continued the watch. When she got to the hospital, she began reaching out to her staff to make sure they were safe. At least 10 had evacuated their homes. Those who could come into work came to help. They performed one emergency surgery on Friday.
"I have to give great praise to all of our perioperative services staff, who we call 'our family,'" says Carter. "We did all we could to help each other, and many stepped up to help cover the weekend because employees were still being evacuated throughout the weekend."
Carter also notes that maintaining an up-to-date disaster call list of employees is crucial. "Being ready for a disaster is important because you do not have time to think when it actually happens," she says. A normal surgery schedule resumed on Tuesday, July 31.
"When I got off work Thursday afternoon, my home was already on evacuation protocol," says Donald Linow, surgical technologist at Shasta Regional Medical Center.
The California highway patrol and sheriff's department had closed off Linow's roadway, and he had to quickly start loading important documents and belongings, along with his pets and two small children and supplies for them.
"It looked like a combat scene. It was incredibly frightening to see 30-foot walls of flames just a mile away from your house, coming down a mountain, and nothing stopping it," he says.
The subdivision where Linow's home was located was saved after the temperature dropped, the wind changed, and the humidity increased. Linow expressed thanks to Carter for her consistent communication and to the OR team for the support that he received throughout the ordeal.

"Administration was very helpful and very supportive, and that made a big difference," says Wayne Palmer, BSN, RN, CCRN, FCCS, director of surgery at Shasta Regional Medical Center. The hospital also started a GoFundMe account to help employees.
Palmer oversees seven ORs, a cardiovascular OR, central supply, the postanesthesia care unit, and preoperative admitting.
Hospital administration and management encouraged employees to take care of themselves and their families first, notes Burke. Staff covered shifts for each other, and those who were able to, came in and took call when others could not, she says.
"You have to respect the fire," says Palmer. "You might think you have time, but in reality you don't because it moves so fast. When you are asked to get out, you have to move out," he says.
Linow adds that "you also might have to evacuate more than once, depending on the path of the fire and the winds." After evacuating on Thursday, he was allowed back into his home on Friday afternoon, and he called the medical center and told them he would be in to work on Saturday to scrub for a couple of emergency cases. As he was leaving his subdivision to go to work Saturday morning, however, he was stopped by the National Guard and told to evacuate his home again. The wind had shifted, embers had flared, and the fire was out of control and spreading again.
"That was probably the worst of the situation for me," says Linow. "I had to run back home and evacuate my family and pets again."
Luckily, Linow notes, the hospital was prepared with two RNs and two scrub technologists on call at a time. "That really took the pressure off, knowing I could call the hospital and tell them I am not coming in at the last minute, and there would still be staff to cover the emergency procedures that needed to be performed. In a disaster situation, that was really helpful," he says.

The community was also very supportive, notes Palmer. Restaurants provided food, and churches provided clothing and found places for evacuees to stay.
A fairground near the hospital provided housing for all the animals that had nowhere else to go. "This is a big horse area," says Palmer, "so there were a lot of horses that needed shelter."
There are still people who can't go back to their homes because the power lines haven't been secured, and even for those who have returned home, smoke is a problem. For example, although Palmer's home wasn't affected by the blaze, the smoke was very heavy and continues to invade his home.
The hospital and others in the community are providing masks to people so they don't have to inhale the smoke directly.
"Everything smells like smoke," Burke said. "I can't wait to come to work in the OR where we have some filtration, and I can stop coughing," Linow adds.
At press time, the Carr fire had burned 229,651 acres and was 100% contained. It has destroyed more than 1,079 homes, including those of 17 physicians and 15 employees at Redding's Shasta Regional Medical Center. Eight people have died in the fire, including three firefighters.
On August 5, President Donald Trump declared the Carr fire a national disaster. ✥