Elective surgical procedures that were temporarily suspended in mid-March are now on the table—or soon will be—at some US facilities. The ban, announced on March 18 by the Centers for Medicare & Medicaid Services (CMS), was enacted to free up resources for facilities overwhelmed by surges of COVID-19 patients.
On April 16, the federal government declared a phased reopening of US businesses that had closed during the most acute period of the pandemic. Since then, a flurry of new guidelines, webinars, and other resources have been offered to help leaders at hospitals and ambulatory surgery centers (ASCs) ensure the safety of perioperative staff and their patients. Here are some recommendations for how to move forward in a dramatically different patient care environment.
Fine-tuning the decision to delay
After CMS announced its elective surgery ban, the American College of Surgeons (ACS), Ambulatory Surgery Center Association (ASCA), and AORN issued a joint statement with decision-making criteria for which types of procedures could be safely delayed.
Although healthcare organizations widely agreed that some procedures could and should be postponed until after the pandemic abated, ASCA said it concurred with the ACS position that "the risk to the patient should include an aggregate assessment of the real risk of proceeding and the real risk of delay, including the expectation that a delay of 6 to 8 weeks or more may be required to emerge from an environment in which COVID-19 is less prevalent."
As part of this statement, a tiered acuity scale was devised as a basis for elective surgery decision making.
Roadmap with new rules
On April 17, the ACS, AORN, American Society of Anesthesiologists (ASA), and the American Hospital Association developed a roadmap for resuming elective surgery (https://www.ormanager.com/briefs/acs-aorn-asa-aha-develop-roadmap-for-resuming-elective-surgery/). Some of the main recommended steps include:
• Implementing a policy for testing staff and patients for COVID-19, including a response for when a staff member or patient tests positive.
• Forming a committee, which includes surgery, anesthesiology, and nursing leadership, to develop a surgery prioritization policy. The policy should factor in previously cancelled and postponed cases and allot block time for priority cases.
• Adopting COVID-19 informed policies for five phases of surgical care, from preoperative to postdischarge care planning.
• Collecting and assessing COVID-19 data and using it to reevaluate and reassess policies and procedures.
• Creating and implementing a social distancing policy for staff, patients, and visitors in nonrestricted areas.
In a separate statement, ASCA outlined its criteria for resuming elective procedures. First, it says, there must be a low or declining prevalence of COVID-19 in the community, and there must be enough beds and personal protective equipment (PPE) for infected patients. Second, ASCs should follow these principles to ensure patient health and prevent the virus from spreading:
• Screen patients before visits and monitor their health preoperatively.
• Require staff to self-monitor and screen for viral symptoms daily.
• Continue to use PPE per the latest Centers for Disease Control and Prevention (CDC) recommendations for all procedures.
• Follow waiting room spacing guidelines, social distancing, face masking, and other recommended procedures for patients and visitors.
• Ensure heightened disinfection to prevent and mitigate risk of spread.
• Ensure patients have been medically cleared by their primary care physician where applicable.
In addition, CMS on April 19 issued new guidelines for the reopening of healthcare facilities in communities with relatively low and stable incidence of COVID-19 cases. The new guidelines update previous guidelines for limiting non-essential procedures and "recommend a gradual transition and encourage healthcare providers to coordinate with local and state public health officials, and to review the availability of PPE and other supplies, workforce availability, facility readiness, and testing capacity when making the decision to re-start or increase in-person care," according to the CMS website.
Advice from OR leaders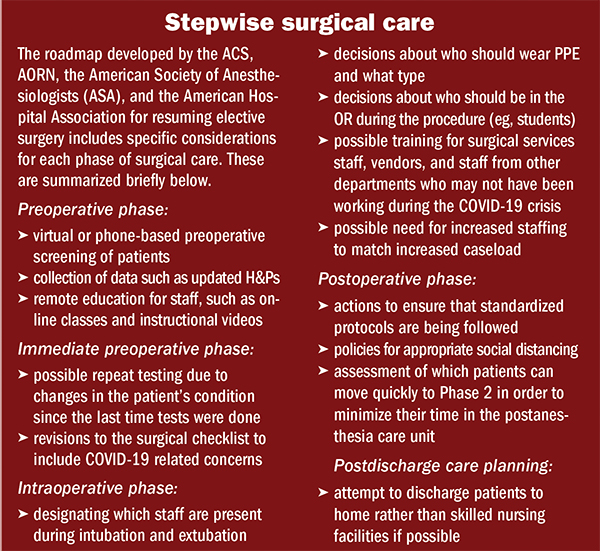 AORN on April 23 hosted a town hall, "Roadmap for Resuming Elective Surgery." Linda Groah, MSN, RN, CNOR, NEA-BC, FAAN, chief executive officer and executive director of AORN, and Renae Battié, MN, RN, CNOR, VP of nursing at AORN, highlighted the key action steps they anticipate will be needed as facilities begin to perform elective surgical cases (sidebar at right).
On April 29, Chicago-based consulting firm Surgical Directions hosted "The Road to Recovery: OR Management After the COVID-19 Crisis," a web-inar co-presented by Anne Cole, MSN, CNOR, NEA-BC, CASC, associate vice president of perioperative nursing, and Yvette Stanley, director of consulting services. They outlined some possible scenarios and tools to help meet the new requirements for safe practice.
With regard to the joint statement, Groah notes that its overarching principle is the health and safety of patients and healthcare workers—a goal that is also reflected in the recommendations from Surgical Directions.
"Any resumption of surgery at individual institutions needs to be authorized by the appropriate group, and in many cases, the governors are the ones having input into state and county decisions," says Groah. "We sent a copy of this statement to every governor across the country."
Case prioritization and scheduling
It's important to identify essential team members, including medical device representatives, and the strategy for a phased opening of the OR, Groah says. The roadmap provides some references for prioritization.
"The multidisciplinary team is really important. You must know how many cases are in the backlog," says Battié.
The ACS has developed a scoring method for prioritizing medically necessary time-sensitive procedures, or MeNTS, Battié notes. Specialties such as oncology, cardiovascular, or transplant surgery, for example, might be higher level priorities.
"Identify how much available time you have to perform cases—not only how many rooms but also how many staff," she advises. "Factor in turnaround times based on whether there's a non-COVID or presumed COVID approach. What capacity goals are you trying to reach at 30 days, 60 days, or 90 days?"
Other considerations include whether to give case priority to high-volume surgeons or those who have taken the most call shifts, and what percentage of elective cases should be performed as outpatient. If your facility has been closed temporarily, what extra duties and time will be needed to open after checking for sterility?
Testing
Although some communities have seen very little COVID-19 disease, images of worst-case scenarios on television have made many people reluctant to go to hospitals and ASCs.
"We know there will be COVID-19 patients in our hospitals, so how do we communicate that our patients will be in a safe environment?" asks Cole.
Day-of-surgery processes will look very different to patients, Cole says. They will be greeted at the curbside by staff wearing PPE, and taken immediately to the preoperative area—most of them without family members.
"It's recommended that patients be tested within 48 hours of coming to the facility," Cole says. If that's not possible, they will be tested at the curbside on the day of surgery and asked screening questions to ensure that it is safe for them to enter the hospital.
Some facilities plan to test every employee when they return to work and periodically thereafter, Groah says, whereas other facilities do not have enough tests. Testing policy needs to be a facility team decision, she adds.
Preparing staff for workflow changes
"We have to pay attention to where the crisis standard of care may have become normal—the goal is not to compromise our standard of care unless we are in crisis," notes Battié.
CMS has suggested establishing non-COVID care zones to separate patient care areas. However, Battié points out, not everyone has the ability to segregate. Furthermore, she says, "if you treat everyone as potentially COVID-19-positive, that will lengthen turnover time and the time it takes to clean in between cases. That decreases overall efficiency and volume and increases the pressure on PPE usage. It might be a reason to consider performing elective surgery only on confirmed COVID-19- negative patients, but that needs to be a facility-based team decision."
Cases will take longer because of the ventilation requirements, Cole says. Sometimes as much as 18 to 30 minutes will be needed to allow for enough air exchanges before OR personnel may begin cleaning a room. Even though staff will wear N95 masks during intubation and extubation, it's important to wait for the air exchanges to ensure safety, she says. "Plan on adding 30 to 45 minutes when scheduling cases," she advises (sidebar below).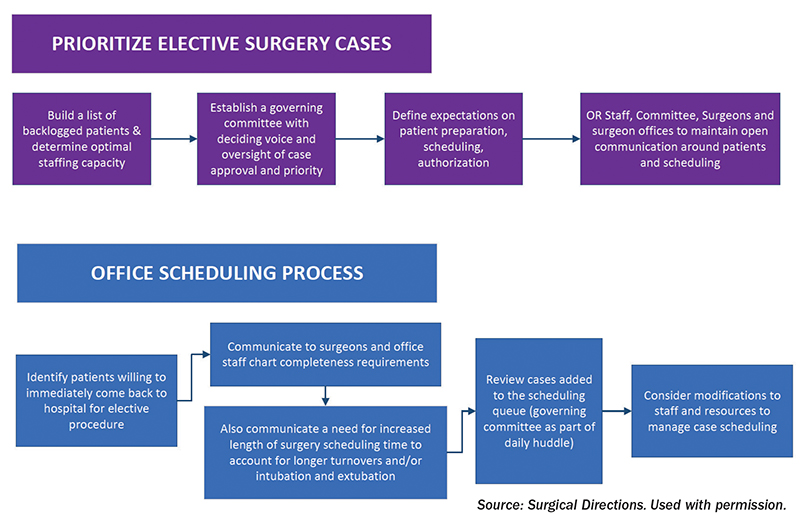 Cole also recommends having one nurse take care of the patient from stage 1 of recovery all the way through discharge. "That's the ideal state, but it will mean bringing on more nurses to work through recovery," she says.
"We need to communicate to our staff that we've been working on policies and protocols," Cole says. Staff who have been furloughed for several weeks will be returning to many new protocols and guidelines, so education is important. Some may be angry because of the disruption in their lives and the changes in their work environment. "We need to understand how they feel because it will impact the care they give their patients," she notes.
Some healthcare workers have expressed fears that they will have to work 7 days a week, but Groah stresses that safety should remain a top priority. Asking surgical services staff to work more than 10 hours a day in an OR poses a high risk of medication errors, patient injury, and fatigue.
Before surgery is resumed, there should be a sustained reduction in the rate of new COVID-19 cases within a geographic area for at least 14 days, Groah says. In addition, facilities must have an appropriate number of both ICU and non-ICU beds. For example, she says, a facility in Texas decided on a policy of having 25% of their beds available for COVID-19 patients at all times and to test only those staff or patients who have symptoms.
"We believe the joint statement and recommendations within the roadmap represent the needs of all members of the surgical team to enable clear decision making as well as an opportunity for collaboration among the team at each facility," Groah says.
She adds that healthcare facilities must anticipate a possible second wave of COVID-19 and remain vigilant about social distancing guidelines. She also notes the toll of this pandemic on frontline and furloughed workers alike.
"It's important to have support services available for all employees and the tools for managing and improving resilience," she says. "OR nurses are the most resilient group I know. They take care of patients today and come back tomorrow to make sure every patient is being cared for at a very high level." ✥
References
Cole A, Stanley Y. The road to recovery: OR management after the COVID-19 crisis. Webinar. April 29, 2020.
Groah L, Battié, R. Roadmap for resuming elective surgery. Webinar. April 23, 2020.
https://www.cms.gov/newsroom/press-releases/cms-issues-recommendations-re-open-health-care-systems-areas-low-incidence-covid-19.
https://www.facs.org/covid-19/clinical-guidance/roadmap-elective-surgery.
https://www.ormanager.com/briefs/acs-aorn-asa-release-joint-statement-on-elective-surgery-decision-making/.