Fueled by a pandemic, patient demand, and competition with ambulatory surgery centers (ASCs), hospital outpatient department (HOPD) leaders are feeling the push to offer same-day discharge for total joint arthroplasty (TJA).
Outpatient TJA is nothing new, but it's certainly growing in popularity, says John W. Stirton, MD, MBA, medical director of the joint replacement center and associate chief of surgery at Alton Memorial Hospital in Alton, Illinois.
The trend started on a low-level basis about 10 years ago. Today, approximately 10% of TJAs are performed as outpatient procedures, either in an ASC or hospital setting, says Dr Stirton. "Cost containment is something we're all concerned with. We're in the midst of an exponential growth in demand for total joint replacement, largely as a result of the baby boomer generation coming of age. Strategies for cost containment are of paramount importance to the healthcare system."
Changing paradigm
The Centers for Medicare & Medicaid Service's removal of total knee arthroplasty (TKA) from the inpatient-only list in 2018 and patient satisfaction with outpatient settings are two drivers of outpatient TKA. "Patients love the convenience and comfort of sleeping in their own beds on the night of surgery," says Dr Stirton.
Surgeons who spoke with OR Manager agree that COVID-19 has accelerated this process. Patients would rather not be in the hospital if they can make alternative arrangements.
Dr Stirton has seen a significant uptick in same-day discharges (SDDs) in his practice. "[Several years ago] a colleague and I were starting to dabble in it. We were doing them on a pretty limited basis, less than 5% of our total volume," he says. Once COVID-19 hit last March, the paradigm changed.
"We were taking necessary precautions, and that included limiting inpatient procedures to preserve hospital beds, staff, and ICU beds. Outpatient surgeries were encouraged," he notes.
Today, because of ongoing inpatient restrictions associated with COVID-19, all of Dr Stirton's TJAs are outpatient procedures. "COVID-19 forced our hand a little bit, making us more aggressive in implementing protocols and getting up to speed in what ASCs have been doing for the last few years," he notes.
At the Hospital for Special Surgery (HSS), an orthopedic hospital in New York City, rapid recovery has always been a goal, says Jonathan M. Vigdorchik, MD, an orthopedic surgeon who is a hip and knee replacement specialist. "If you look at the evolution, it's very interesting how we've decreased length of stay from several days to 1 day to zero. Basically, if you can get it down to 1 day, you can do a same-day discharge."
Patients are excited about this option, says Michael Ast, MD, an assistant professor for orthopedic surgery who focuses on rapid recovery and outpatient joint replacement at HSS. "We have also seen a lot more family support for the idea. Maybe it's because more people are currently working from home or with more flexible schedules," he says. The fact that some patients' families are available to help at home creates an impetus for patients to have their procedures and get back home quickly, he adds.
With COVID-19 accelerating the shift to outpatient surgery, it's possible that over the next 2 years, 50% of all joint replacement patients will go home within 24 hours after surgery, Dr Ast says. "I do still think there is ultimately a cap to that figure; there will always be some patients undergoing joint replacement for whom an inpatient stay is more appropriate. What that ultimate number will be is uncertain and may change over time."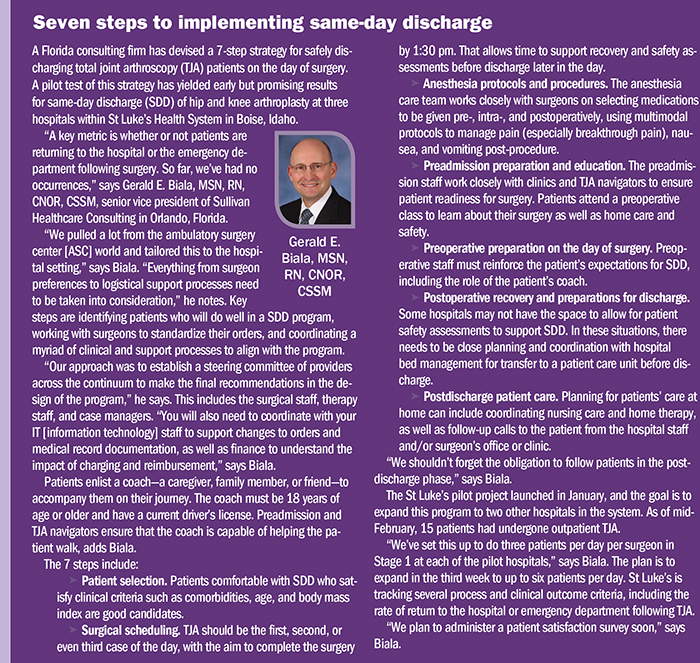 Data support outpatient procedures
Patient buy-in is just one contributor to the SDD boom at HOPDs. In addition to advances in surgical procedures and techniques, "you also have huge advances in anesthesia, in the medications used in regional blocks, in spinal anesthesia, and in the understanding of optimal perioperative pain management," Dr Stirton says. The fine-tuning of these elements is helping surgeons target patients for SDD.
Aggregate experience across the country is also growing and being shared in the orthopedic literature. "We're all learning and improving our entire perioperative pathway," he says.
Studies suggest a cost and quality of life advantage to outpatient procedures. At the American Academy of Orthopaedic Surgeons 2019 Annual Meeting, Dr Ast presented results of a study done with his colleagues on outcome and cost comparisons for inpatient and ambulatory surgery hip and knee replacement procedures. Matching 126 patients in the ambulatory group with 126 patients who stayed in the hospital, they found no meaningful differences in complication rates (3.9% for the inpatient group and 2.4% for the ambulatory group). They also reported no increased readmission rates for patients discharged on the day of surgery versus those who stayed overnight in the hospital. Average costs per patient were $11,677 in the ambulatory group compared to $19,361 in the inpatient group.
Another recent study reported lower costs of doing outpatient TKA in an HOPD versus an inpatient academic medical center. "Cost savings at the HOPD represented 26%, 56.6%, and 14% for preoperative, recovery, and total care episode time, respectively," the authors say. On average, HOPD patients also spent less time (6.5 hours) in the facility, compared to 9.8 hours in the academic medical center.
There are many benefits to out-patient TJA, but it has to be done safely, Dr Stirton says. "We talk about cost containment, but we don't ever want to sacrifice safety for savings." The main motivation for doing outpatient TJA should be patient satisfaction, he adds. "We have strict outpatient criteria that include age and an overall health assessment."
Strategies for a successful discharge
To discharge TJA patients safely on the day of surgery, HOPD clinicians should avoid falling back on antiquated practices that lead to inefficiency, says Vinay Aggarwal, MD, assistant professor at NYU Langone Health's department of orthopedic surgery in New York City.
HOPDs can learn a few things from ASC methods. "First and foremost, a smaller team-based approach that is the cornerstone of successful ASCs gives the potential for quick and efficient high-quality care in a reproducible manner," Dr Aggarwal says. ASCs also rely on inventory control to maintain efficiency. "Keeping inventory down and minimizing tray turnover and processing can help tremendously before, during, and after a case is completed."
In Dr Vigdorchik's practice at HSS, a clinical care coordinator screens patients to ensure that they meet criteria for SDD. "Instead of having the social workers or care managers do the discharge planning, we now have the physical therapist as part of the preoperative evaluation do the planning, to help the patient set up at home, and explain what activities they're going to do [post-procedure]," he says.
HSS also offers a SDD online class to patients and caregivers to familiarize them with the support that will be needed at home after the procedure.
Some HOPDs are modifying their preoperative pain protocols to safely discharge patients on the same day. "On the anesthesia side of things, we do preoperative analgesia prior to initiation of spinal anesthesia," says Dr Stirton. The practice has moved away from long-acting narcotics such as Oxycontin, relying instead on short-acting narcotics, anti-inflammatories, and Tylenol, given preoperatively either orally or intravenously. This preloads a patient for expected postoperative pain without administration of excessive long-acting narcotics.
Narcotics can make patients nauseous, and nausea keeps them in the hospital, says Dr Vigdorchik. Using a narcotic-sparing approach, offering anti-nausea medication, and providing fluids to prevent lightheadedness are some strategies for a speedier discharge.
Anesthesiologists are also using different concoctions to allow for shorter-acting spinals. Under this method, a patient can have a 7:30 am TJA, and by 9:00 am, the spinal is already wearing off. "These shorter-acting spinals allow patients to get in and out of surgery and get sensation back in their lower extremities so that they can get up and walk, and do their same-day physical therapy," Dr Stirton says. If all goes well, the patient is ready for discharge later that afternoon.
HOPDs should consider isolating a section of the postanesthesia care unit for SDD patients.
"These [outpatient total joint replacement] patients have different needs than patients with other, much larger, surgeries, and with that, we don't allow them to stay in bed all day. You get them up faster, treat them like they're healthy, and prepare them for going home," says Dr Vigdorchik.
Importance of educating staff and patients
HOPD staff and patients alike need to be on board with SDD. To achieve that, preoperative education and coordination among OR staff and perioperative nursing staff are a must, says Dr Vigdorchik.
"All it takes is one physical therapist or one nurse to say: 'You're going home in 1 day, that's crazy, don't do it,' and it all falls apart," he says. Not everyone believes in SDD, he adds. "If some staff are slower adopters, they might tell the patient, 'I don't think you should go home today.'"
Despite the popularity of outpatient TJA, patients may also express reservations, given that TJA has traditionally been thought of as an inpatient procedure.
The general assumption is that a typical hospital stay lasts several days. "Many people are ill-informed about the advances made," says Dr Stirton. The answer is to educate patients—to explain to them what the procedure entails, and to stress that it's not experimental and that it is safe. HOPDs should be willing to share data with patients on the rate of unexpected in-patient stays after outpatient surgery, he believes.
"A few patients might be hesitant, but that's part of the selection process, and if they'd prefer or if it's safer in their case to have inpatient status, then we'll accommodate that once COVID-19 restrictions allow," says Dr Stirton.
Same-day procedures during COVID-19
COVID-19 has spurred some outpatient procedures while leading to new precautions before and after surgery. Dr Stirton requires that patients self-quarantine and produce a negative COVID-19 test less than 72 hours before the procedure.
At HSS, all patients get a COVID-19 antibody test a few weeks before surgery, says Dr Vigdorchik. Within 3 days of surgery, everyone gets a COVID-19 PCR (polymerase chain reaction) test. "If it's positive, they're not allowed to have surgery until they have a negative test. Unfortunately, someone can have a positive test for a month afterward."
Although many patients are confident of the safety of the procedure, others may be hesitant to have surgery during this uncertain time of viral variants and a low vaccine rollout.
"We've seen upticks and also downticks in volume because patients are saying: 'COVID is going crazy, I'm going to just wait. I'm scheduled to get a vaccine in 2 weeks,' etc," says Dr Vigdorchik.
Even in today's changing healthcare climate, HOPDs remain valuable in large institutions and hospital systems, says Dr Aggarwal.
The key for HOPDs is to mimic the efficiency, quality, and patient satisfaction rates that ASCs are enjoying, while taking care of the sicker and more complex patients who may have slightly longer stays.
"At the end of the day, a large chunk of patients who undergo TJA will still admittedly have medical comorbidities that ASCs just aren't equipped to handle," says Dr Aggarwal.
These patients may have certain heart or other organ system conditions, significant preoperative anemia, undiagnosed or poorly treated sleep apnea, or a history of difficulty with pain or chronic narcotic use, notes Dr Ast. "These are some of the medical reasons to strongly consider an inpatient stay after joint replacement. There are many social factors that should be considered as well."
Dr Stirton says if patients scheduled for outpatient TJA need closer monitoring, they are admitted on an observational status. "They're watched overnight, get a brief therapy session the next morning, and go home that next morning," he says.
In his view, a hospital offers a TJA patient the best of both worlds. "[HOPDs] have the ability to provide patients with all those conveniences and advantages of going home and spending the night in their own bed with the comfort and safety of knowing they're right there in a hospital with all of its capabilities," says Dr Stirton.
If something goes wrong, even if it's something simple such as low oxygenation or a fainting spell, the patient is already in the hospital. "There's no need for an ambulance or transfer from another facility. So being in the hospital setting gives some of my patients more peace of mind."
This safety net is a key reason why HOPDs won't ever lose all of their cases to an ASC, says Dr Vigdorchik.
Up to about 50% of patients make great candidates for SDD, he says. But it's important to make sure the patients are eligible in terms of their comorbidities.
"It's something we want to look at very cautiously, especially in patients with a history of cardiac abnormalities or obstructive sleep apnea. We don't want to be aggressive about sending someone home on the same day because they could have a complication," Dr Vigdorchik says. If they do, having that safety net the hospital provides is comforting for patients, he adds. ✥
–Jennifer Lubell is a healthcare writer based in Rockville, Maryland.
References
Centers for Medicare & Medicaid Services. Total knee arthroplasty (TKA) removal from the Medicare Inpatient-Only (IPO) list and application of the 2-midnight rule. January 1, 2018. https://www.cms.gov/Outreach-and-Education/Medicare-Learning-Network-MLN/MLNMattersArticles/Downloads/SE19002.pdf.
Gibon E, Parvataneni H K, Priet H A, et al. Outpatient total knee arthroplasty: Is it economically feasible in the hospital setting? Arthroplasty Today. March 13, 2020. https://doi.org/10.1016/j.artd.2020.02.004.
Hospital for Special Surgery. No increased risk of complications for joint replacement in ambulatory surgery setting. Presented at the American Academy of Orthopaedic Surgeons 2019 Annual Meeting, March 14, 2019.
https://www.eurekalert.org/pub_releases/2019-03/hfss-nir031319.php.
2016 Orthopedic Landscape. Sg2.com. https://orthoserviceline.com/wp-content/uploads/2016/11/Wellbe-Orthopedics-Forecast-Webinar-Final.pdf.