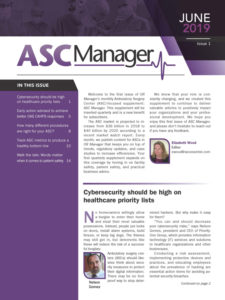 We're excited to introduce our first quarterly issue of ASC Manager!
This is a time of great opportunity for Ambulatory Surgery Centers (ASCs) as the market is expected to grow significantly in the near future. ASC Manager offers you a roadmap for evaluating expansion opportunities, managing your growth, and producing a healthy bottom line.
We hope that the in-depth look at facility safety, patient safety and practical business advice provides you with valuable information to successfully navigate this new healthcare environment.
Please complete the form below to download your complimentary issue of ASC Manager: