High labor costs, surgeon dissatisfaction, high staff turnover, and low staff competency are problems that dog many OR leaders at some point in their careers. When managers at the Stanford University Medical Center Main OR in Stanford, California, found themselves facing all of these problems at once, they knew something had to change. They began taking steps to correct course, and although changes are still ongoing, they have found ways to increase staff competency and satisfaction—which have, in turn, helped resolve some of the other problems.
Problems defined
The Main OR typically runs 21 rooms—which can go up to 24 when supporting two catheterization labs and an MRI room for hybrid neuro cases—and performs more than 18,000 cases per year. The ORs are staffed 24/7, and it is not unusual to have six to eight rooms running at 11 pm.
"We began by meeting with key stakeholders such as educators, managers, charge nurses, and, most importantly, the frontline staff to define the problems," says Jerome Santos, DNP, MBAcd, BA, BSN, RN, assistant patient care manager, Stanford University Medical Center.
Among the problems defined:
• Lack of competent staff. "We had difficulty staffing rooms with competent staff in the evenings," says Rosemary Welde, MBA, BSN, BCC, RN, head of the charge nurse team, Stanford University Medical Center. Part of the problem is that Stanford is building a new hospital and has hired a number of new surgeons. The new surgeons do not have block time, which is why so many elective cases are going on late in the evening. "It's not uncommon to be running 21 or 22 rooms at 5 pm, down to about 15 rooms at 7 pm," says Welde. "This made it even harder to put the appropriate people in the right rooms."
• One-service wonders. Many staff members were not cross trained. They only worked with one service, and some only worked on one type of case or with one specific surgeon within a service, causing even more staffing issues when doing cases late at night. Welde says she calls them "one-service wonders."
• Low motivation. "We work in a unionized environment, and our pay depends on how long we have worked at Stanford, so there isn't a lot of motivation for staff to improve their skills," says Welde. In addition, staff noticed that those with more skills never got to go home early when it wasn't busy. "We really had to change that mindset and work hard to make people want to be more accountable and more motivated," she says.
• High labor costs. To meet specific skill and staffing needs, the OR uses, on average, $3 million per year for call pay. Staff are paid half of their base salary for call pay. For example, nurses who are paid $80 an hour receive $40 an hour to take call.
• Self-checking competency. Staff were asked to review lengthy lists of skills and self-assess their level of competency for each skill. "Because most people really aren't very good at saying how well or badly they do certain things, this really wasn't helping us," says Welde.
Environmental challenges
Adding to the staff competency and cross-training challenges were environmental challenges.
• Stanford has no standardization within services. "This is really challenging for the staff nurses and techs," says Welde. "For example, in general surgery, we have several different vendors for trocars. In orthopedics, we don't have standardization with implants, so there might be 10 or 12 implant vendors in the OR during the day."
• Surgeons want consistent staff working with them. "One of the roadblocks we hit early on was that surgeons wanted staff they were used to working with in their rooms," says Welde. "We really had to collaborate with the physicians and get them on our side. We had to make them see that we needed to rotate more staff through the services, so that when they were doing, for example, a Whipple at 7 pm, they would have someone competent in the room."
• Maintenance of staff skills had become more challenging. "Once staff rotated through a service, they would have to maintain their skills by doing a certain number of cases, such as craniotomies, total knees, and total hips each month," says Welde. However, there was no way to analyze that data and ensure skills were being maintained.
• New procedures and technology were introduced weekly. "We were enhancing cases with new technology almost weekly, which made cases more complex and made it difficult to learn how to work all the new equipment," she says.
Competency vs productivity vs outcomes
"Our goal was to increase staff competency so that we could increase our productivity in the off shifts without excessive overtime. In return, we wanted to improve our surgical outcomes," says Santos.
Competency
There are several modalities to validate competency. Managers at Stanford use a competency assessment, which focuses on an individual's actual performance in a situation.
Many healthcare facilities use a self-assessment, which focuses on an individual's ability to perform a given skill, Santos says.
Another way to validate competency is a preceptor assessment. This includes critical thinking assessments, observations, and audits, and can be an adjunct to a self-assessment.
In addition, there are management assessments in which managers synthesize new staff members' self-reports on their experience in certain services. "For example," says Santos, "when a new employee says he is good in general surgery, I will put him in that service first and then gather more data from preceptors and others in the room, and then I observe him myself. Once I validate his performance in general surgery, I can move him to another service."
The charge nurse's assessment is also informative. "We believe our charge nurses have a very broad sense of what staff members can and cannot do," notes Santos. "They interface with physicians, preceptors, and other staff members, and have a very good sense of how a new employee is progressing."
Assessment during simulation exercises allows managers to assess how staff members respond in critical situations.
Productivity
Productivity is used to determine the efficiency of care being given. Most organizations look at productivity versus volume versus case minutes and then look at their staffing needs to determine their productivity measures, says Welde.
"Managers are really 'under the gun' on a daily basis to make sure that they have not only a competent staff but a productive staff."
With some 65% of a hospital's profitability coming from the OR, Welde notes, there is increasing pressure to make sure the department continues to be profitable.
Surgical outcomes
Surgical outcomes encompass structural, process, and outcome measures.
Structural measures include anything in the environment that has an impact on patient outcomes, such as equipment, policies and procedures, and staffing.
"Process measures are a series of things that have to be in tune to produce an outcome," says Welde. "For example," she says, "we talk a lot about 'standard work,' which is basically just having processes in place that have an impact on outcomes."
Measuring outcomes, in turn, measures the standard of care and the impact of that care on a patient's quality of life. "Outcomes include operative mortality, complication rates, length of stay, readmission rates, and patient satisfaction, but the 'gold standard' is our outcome measurement for quality because it assesses the value of the services provided," says Welde.
Implementing WiseOR
To help gather staff data and to analyze staff competency, the management team adopted an analytic tool named "WiseOR"—a program that sets levels of staff competency based on hours worked and criteria set for a specific service. The program was established by anesthesiologists and was first used in the anesthesia department at Stanford for the anesthesia work schedule (https://wiseor.com).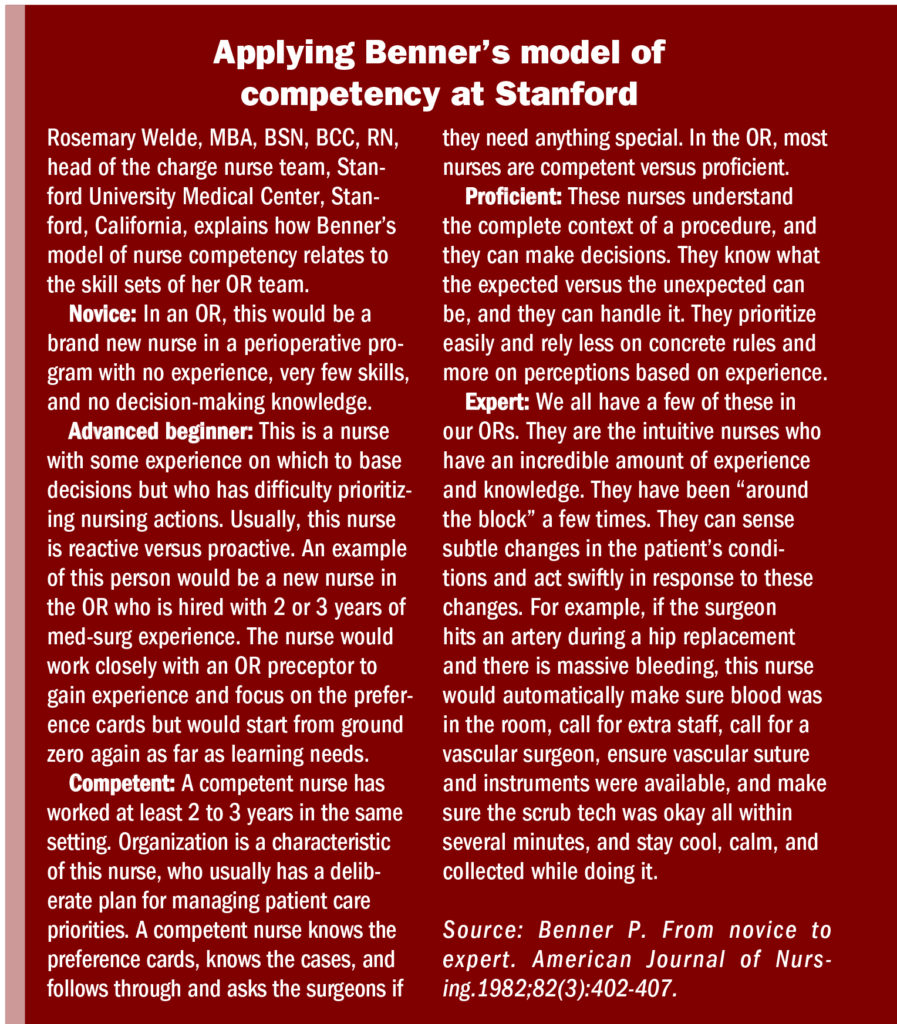 Schedulers worked with information technology personnel to extract information from the hospital's Epic system and interface Epic with WiseOR.
"The whole project centered around making sure the off-shift personnel were competent and improving their competency," says Welde. "To do this, we looked at the types of cases we do after 3 pm and on weekends, and clustered the same types of cases together."
For example, in general surgery, if staff members were competent to assist on a laparotomy, they could probably also assist on a bowel resection or a cholecystectomy.
"We then loaded all of this like-procedure data into our Epic system along with case codes with the help of managers, charge nurses, schedulers, staff, and WiseOR innovators. This took several months," she says.
To identify the level of staff competency, they used Patricia Benner's Novice to Expert Model, and the project team established the criteria to maintain skills as well as an evaluation process (sidebar at right).
Pilot program
"In addition to our desire to improve and address staff competency, we wanted to increase staff engagement and accountability, so we began a pilot program," says Santos.
"We collaborated with educators, managers, charge nurses, and frontline staff to make sure we were developing a program that was suited for the key users," he says.
Another goal of the program was to increase staff morale and help them define a competency expectation so they could all work on an equal level and alleviate the disparity between low performers and high performers.
"Our focus was on staff who worked from 3 pm to 11 pm because they were the ones who were expected to work in many different services, give breaks, and start cases," says Santos. "We anticipated a reduction in labor costs also because if more staff were competent to do multiple types of cases after hours, we thought we could significantly reduce call staff," he says.
Defining competency
Using Benner's model and after many weeks of discussion, Santos says they all agreed to set their standard at a 40% inclusion. "This means if a nurse is in one service 40% of the time, she will get credit for those hours to build her competency," he says.
The competency level categories are signified by bars:
• Level 1 is equal to one bar. This is an advanced beginner with 0 to 500 hours of experience at Stanford and equivalent experience gained before working at Stanford.
• Level 2 is equal to two bars. This is a competent nurse with 501 to 1,000 hours of experience at Stanford who can do a case independently.
• Level 3 is equal to three bars. This is a proficient nurse with 1,001 to 1,500 hours of experience at Stanford who can teach staff.
• Level 4 is equal to four bars. This is an expert nurse with more than 1,501 hours of experience at Stanford who can teach staff and serve as a resource.
Tracking competency
Just as the bars represent level of competency, color coding is used to track skills maintenance, and both are depicted with the WiseOR program.
Color codes represent how much exposure a staff member has in a particular service area:
• Blue. Staff member has never been exposed to this case or service.
• Yellow. Staff member has done this type of case but has not been exposed to that particular service for 1 to 3 years.
• Red. Staff member has not been doing this type of case or been in this service for more than 3 years.
• Green. Staff member is consistently doing these cases.
When staff members haven't done a particular type of case for a while, the program will trigger an alert to the manager to make sure they are put back in that service area and that type of case.
Goals met
Staff are now required to be competent in at least three services. This has resulted in a lot more collaboration and a lot more surgeon satisfaction, says Welde.
"It has also reduced call on the night shift because, for example, there are staff who can scrub liver transplants, which has decreased our liver call," she says. "It's the same thing on weekends and holidays," she says.
Welde notes that their goal is to eventually have at least 80% of staff on the off shift competent to circulate or scrub on liver transplants.
Santos added that as they cross-train more staff, they are increasing productivity and using call teams less, which results in cost savings.
At 3 pm, there used to be an average of eight RN call slots and five scrub tech call slots to fill. After implementation of the pilot project, the eight RN call slots were down to five, and the five scrub tech slots were down to three, which reduced labor costs by approximately $1 million.
When the cross-training program began, there were 43 staff members on the off shift. From September 2017 to May 2018, 17 of 30 RNs and 8 of 13 scrub technologists were cross-trained.
Lessons learned
"We have learned so many lessons, and we are still in the process of learning more," says Welde.
Among them:
• Time is only one indicator of competency. It is important to look not only at time, but also at other modalities to train people, such as simulations, critical thinking skills, and one-on-one education, says Welde.
• Cross-training increases competency, productivity, physician satisfaction, staff satisfaction, and morale, and it reduces labor costs.The highly skilled staff no longer feel like they are taking the brunt of overtime because other staff members are also expected to do more, says Santos.
• Technology can aid in developing staff members' professional growth and development. "We are fortunate that we work in an organization where we have access to all different types of technology, such as simulation labs," says Welde.
• Stakeholder buy-in can be challenging because of the upfront cost of cross-training. "This can be tricky, but we were able to come up with good data and say: 'This is where we want to be, and this is what we want to accomplish,'" says Santos.
• Engagement of managers, charge nurses, administrative staff, and clinical staff is critical for building programs."You have to have everyone's buy-in or you won't be successful, and the staff are a key component," says Welde.
Welde adds that more people on day shift want to transfer to the off shift. "I think this means we are doing something right," she says. "People are being more accountable and are wanting to learn more. It's a learning process for all of us." ✥
References
Benner P. From novice to expert. AJN.1982;82(3):402-407.
Santos J, Welde R. Invest in your team: Methods for staff skill-set tracking and development. OR Manager Conference. September 2018. Nashville, Tennessee.