The COVID-19 pandemic has created unprecedented strains on hospitals and healthcare systems, leaving many organizations with limited resources to care for severely ill patients. States, regions, hospitals, and health systems have had to reassess their resources, identify bottlenecks, and develop strategies for increasing critical care capacity.
Creating the critical care capacity needed for a surge in COVID-19 patients requires creative thinking about the allocation of space, staff, and supplies and equipment.
SCL Health Lutheran Medical Center in Wheat Ridge, Colorado, was anticipating a surge in COVID-19 patients over the April 11-12 weekend. In response, they developed a surge staffing plan, converted a postanesthesia care unit (PACU) into an additional ICU, converted an old ICU back into an ICU, and converted the neuro critical care unit into a unit for COVID-19 patients.
---
Sponsored Message
---
They also converted one med-surg unit into a unit just for those COVID-19 patients who have gotten off their ventilators, and for persons under investigation (PUIs) waiting for their test results. As of April 9, the hospital had discharged 31 COVID-19 patients who had recovered.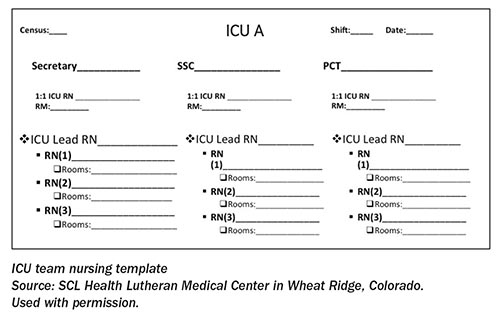 Tiered staffing plan
"While waiting for the surge to hit us, we developed a staffing plan because we didn't have enough ICU nurses to handle all of the additional ICU beds," Deborah Hedrick, MA, BSN, RN, CSSM, NEA-BC, told OR Manager. "It is a tiered plan that uses team nursing," says Hedrick, director of perioperative services, endoscopy center, and bariatric clinic, at Lutheran (sidebar above).
The tiered staffing plan fluctuates daily depending on how many patients are placed on ventilators.
The bottom rung of the tier includes nurses from the OR, GI endoscopy unit, and interventional radiology. These nurses were given a 2-day orientation to the med-surg units, and replaced med-surg nurses.
The med-surg nurses moved up to the next rung of the tier, which was to staff the telemetry and post critical care step-down units.
The step-down units' nurses moved up to help staff the ICUs, as did PACU nurses. "Many of the PACU nurses had worked in the ICU before and didn't need a reorientation. Others had a 2-day orientation," notes Hedrick.
PACU to ICU
On April 9, Hedrick learned they were also going to convert their PACU to an ICU. The converted ICU is just for COVID-19 patients.
To ready the conversion, air flow was turned from positive to negative pressure. Hedrick says they also sealed off all the doors so there was only one way to get into the PACU area. The PACU has 18 bays in it, but Hedrick says they are starting out using just six of them as ICU bays. A physician is overseeing the patients in this area.
The preoperative area is now used as a PACU and for preoperative patients. Also, one preoperative isolation room has been turned into an intubation room for COVID-19-positive patients and PUIs. Because it was an isolation room, it already was a negative pressure room. Once a patient is intubated, the team has to wait 14 minutes for air exchanges to take place before they can leave the room.
In the GI endoscopy room, which is positive pressure, the air exchanges were only 6, and they were upped to 10. Staff have to wait 23 minutes after extubation before leaving the room.
Hedrick noted that anesthesiologists also will intubate GI endoscopy patients who are positive or PUIs for COVID-19 in the preoperative area isolation room and then take them to the GI endoscopy room.
In the ORs, which are positive pressure, all surgeons, staff, and anesthesia personnel are wearing N95 respirators and complete personal protective equipment, Hedrick says. Everyone except the circulating nurse and anesthesiologist step out of the room while they are intubating the patient, and they are not allowed back in for 6 minutes.
Colorado's governor has mandated cancellation of all elective surgery until April 26. On average, Hedrick says they are still doing about 10 urgent or emergent cases a day. Presently they are running four ORs and the heart room. The PACU nurses who are still working in the PACU are on call around the clock, and they come in whenever there is a patient to recover.
Redeploying staff
"The OR nurses have been great," says Hedrick. "They have stepped up and volunteered to go anywhere they are needed—some went to the ICU, some to the med-surg unit, and some to the emergency room."
Converting anesthesia machines into ventilators is a last resort, Hedrick says. They are supplementing their ventilators in the ICUs with V60 ventilators, which are more like CPAP (continuous positive airway pressure) machines that provide noninvasive ventilatory support.
Though some hospitals have been laying off staff, SCL Health did not. Hedrick was co-leader of a redeployment team that redeployed staff to do hospital entrance screenings of patients, asking them about their symptoms and taking their temperatures.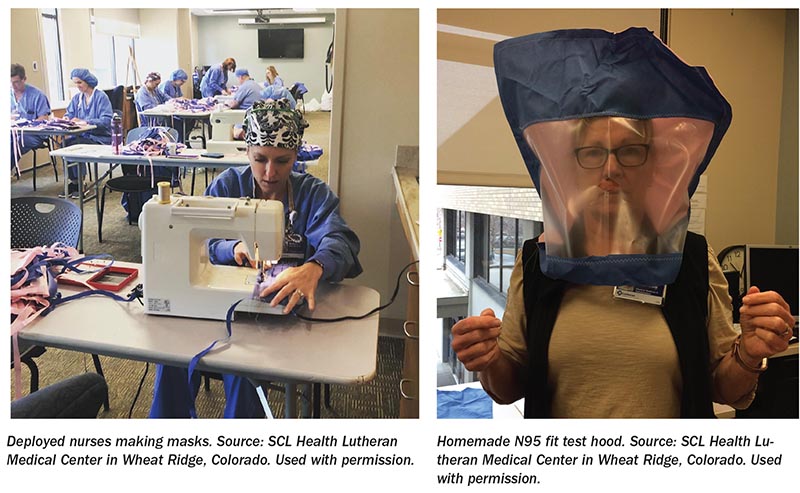 Hedrick also redeployed 16 staff members to make masks (photo above). She brought in her sewing machine, four more were brought in, and WalMart donated three.
Hedrick and Lesia Hatlestad, MSN, RN, CNOR, perioperative clinical practice specialist, were highlighted in a 9News segment in Denver (https://www.9news.com/article/news/health/coronavirus/nurse-or-seamstress-hospital-staff-create-homemade-face-masks/73-f752f3ad-494a-4f56-af2c-3020ced0046a).
They are making 400 masks per day from instrument wrap material. The masks are used as backup for general-use face masks for walking around the hospital or hospital grounds, the clinics, and the cafeteria. A provider can also wear them when entering a patient's room to talk to a patient who does not have COVID-19.
They also are making fit test hoods for fit testing for N95 respirators because they ran out of the fit test kits. They are making the hoods by sewing together sterilization wrap and the clear plastic cover from the surgery pack (photo above).
The Centers for Disease Control and Prevention calls homemade masks a last resort, and many hospitals won't accept them from the public. Because Hedrick and the hospital control production of their homemade masks, they also control the cleanliness.
Other hospitals in the SCL Health system are now using the same pattern and process. ✥