Editor's Note
In a nationwide survey that assessed the effects of the COVID-19 pandemic on the emotional wellbeing of adults, 90% of respondents reported experiencing emotional distress.
The survey of 1,500 adults found that:
---
Sponsored Message
---
80% were frustrated with not being able to do what they normally enjoy doing
80% were worried about their own health
90% were worried about the health of loved ones
racial and ethnic minorities, especially Hispanic/Latinx, reported higher levels of emotional distress
men and women reported similar levels of emotional effects
women with children under the age of 18 were more likely to report clinical levels of anxiety, compared to women without children
men with children under the age of 18 were more like to report signs of depression than men without young children
adults under the age of 50 were much more likely to report emotional effects than older adults.
The survey, developed by researchers at Beth Israel Deaconess Medical Center, Massachusetts General Hospital, and the University of North Carolina at Chapel Hill School of Medicine, was conducted in the last 2 weeks of May 2020.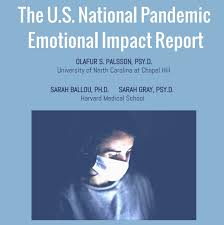 Read More >>